Today's topic is not "about food" exactly but about something important for food lovers.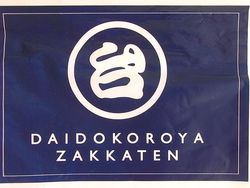 I visited Shibuya (渋谷) more than 100 times in my life but I had not known this interesting store until recently...
Daidokoroya Zakkaten (台所雑貨店) represents "Kitchen Goods Store" if tranlated in English. It is located just a minute from Shibuya station which is known for the most busiest diagonal crossing in the world. The store is on the basement floor of a shopping complex called "Shibuya Tokyu Plaza" which can be visible from West Exit of Shibuya station over large bus terminal.
Finding Daidokoroya Zakkaten, I was amazed by the abundant collections of kitchen goods from plates stacked close to the floor, utencils hung on the wall both left and right, even baskets suspended from the ceiling, every space filled with intersting tools or kitchenware, without empty space. The scene reminds us "Kappabashi" (合羽橋) well-known kitchen goods street in Asakusa. But here it is Shibuya, just a minute from the station.
Of course it does not have large scale like Kappabashi but is still exciting to find someting interesting for your kitchen or souvenir without travelling to Asakusa.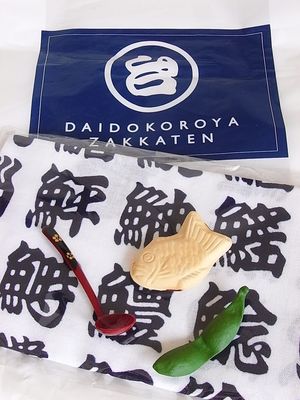 What I bought at Daidokoroya Zakkaten today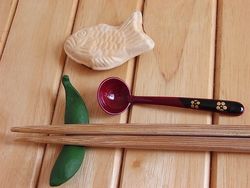 Top: chopstick rest in the shape of "Taiyaki"(sea bream fish shaped cake) 
Center: a tiny spoon with flower motif, which allows me to scoop very small portion of powder
Bottom: again chopstick in the shape of "edamame"(green soybean, often served as snack with beer) Not edible but able to be brought out from Japan as a souvenir and make a lough on table...
Another fun discovering....
"tenugui" (手ぬぐい, traditional washcloth
can be used in kitchen, bathroom or any other housekeeping work)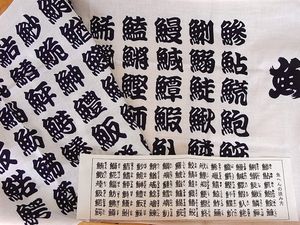 This tenugui is not just washcloth.
Each character printed in dark blue ink represents a kind of fish.
The list is likely to be found at Sushi restaurant. This case, it is printed on cloth.
Even for native Japanese, it is not east to master all the words and name...
So it is very kind to have the paper list attached and telling us how to pronouce these words.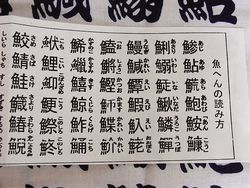 The cloth will give us an oppotunity to study
plenty of Kanji (漢字, Japanese characters) related to seafood.
Daidokoroya Zakkaten offers other intresting tenugui cloth. Some of them are different by season. 
Drop by the shop in Shibuya to find some small but good souvenir or useful tools to prepare authentic Japanese food in your home.
Shop name: Daidokoroya Zakkaten
Address: B1 floor, Shibuya Tokyu Plaza, 1-2-2 Dogenzaka, Shibuya-ku Tokyo