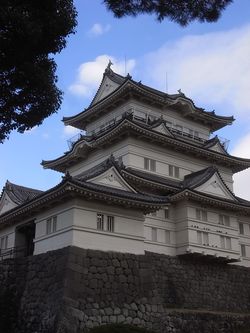 Odawara (小田原) is a castle town in Kanagawa prefecture, situating between Tokyo or Yokohama and Hakone Hot spring resort (箱根温泉地). It takes only 35 minutes by Shinkansen or about 70 minutes journey even by JR local express trains (Tokaido Line) from Tokyo. It must be the most closest castle town from Tokyo, apart from Edo castle or Imperial Palace in central Tokyo.
Odawara Castle is 10 mintes walk from Odawara train station, following the town's main street to the castle gate. 
Top floors of Odawara Castle is accessible as exhibition halls and observation deck. So going through to the castle garden, climbing up to the top!!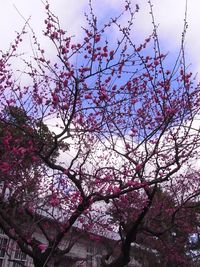 At the garden surrounding Odawara Castle, on February, you will find plum (Ume, 梅) blossoms which is one of the most popular tourist attractions of Odawara Castle for local people. The weather is still cold on the month but it is a sign of coming Spring.  
Enjoying the nature plants and looking at the castle from different sides, don't give up going up to the castle top!!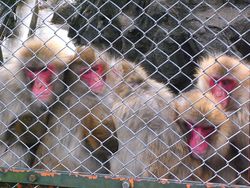 We also found monkeies at the castle park just before the castle main tower... 
It will be a good half-day exercise to climb up to the castle top and walk around the castel park.
The reward of climing up exercise is
the VIEW from the TOP of Odawara Castel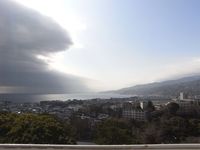 Odawara town, Pacific Ocean and mountains
You will find Odawara town's unique location
in narrow area between Ocean and mountains.
It was strategically choosen by former Samurai governors.
The exhibition halls inside the castle main tower is also recommendable to spend around 20- 30minutes to watch the interesting collections from Edo period. Cultural works, folk objects at the exhibition will tell you tradition and life of Japanese in Edo era. 
After enjoying the beautiful shape of historical castle, let's find FOOD or Sweets in Odawara.
Japanese traditional sweets have been often cultivated by local governors as a part of rich local culture.
Here we introduce two most interesting sweets souvenir in Odawara.
Firstly from the souvenir shop on the top floor of Odawara Castle,
Buke Yokan (武家ようかん, Samurai family sweet beans cake)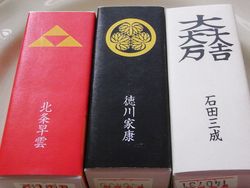 Each different family emblem with name of Samurai
is attached to each box of Yokan.
As it has tens choices of Samurai name and emblems,
even if you don't know each of them,
it must be fun to look around the variaties of emblems and colors.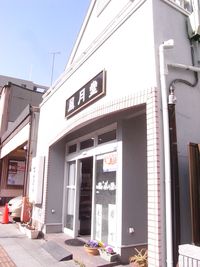 Next our finding is from a small local sweet boutique, called Fugetsudo (風月堂).
It is less than 5 minutes walk from Odawara Castle and along one of the town's main street.
Fugetsudo is a popular name for Japanese traditional sweet shops. You could find a shop with same name in other towns. The most famous one is in Kobe and sells "Gaufre" cookies. Each of them is different and not a chain affiliate. Just for your information.
Castle Monaka(城下町もなか, Joka machi monaka)
by Fugetsudo Odawara
Amazing small piece of Monaka (sweet beans cake with shells)
in shape of CASTLE!!!
It's a great Japanese art work,
which you can bring back to your country.
(have to keep in a box, so as not to be broken though)
It will be an interesting full-day excursion to go out from Tokyo by Shinkansen or local JR train and to walk around Odawara Castle as well as the old town surrounding the castle, discovering traditional products like above.
Odawara Castle  
Nearest station: Odawara (JR and Odakyu lines)
Shop name: Fugetsudo Odawara (風月堂)
Address: 1-10-20 Honcho, Odawara-city, Kanagawa
View Larger Map