Restaurant Pachon is situated in Daikanyama (代官山) which is just one stop from Shibuya. The town Daikanyama may be not well known among international tourists, while it is known for independent fashion boutiques visited by young people who would like to catch up with the latest trends.
The Montpellier-born chef, Monsieur Andre Pachon, has run the upscale French restaurant Restaurant Pachon  as its owner chef at Daikanyama, Tokyo for almost 30 years since 1984. We could say that he is one of the pioneers who introduced authentic French cuisine in Japan. As Restaurant Pachon maintains Michelin star (*), his fine French cuisine is appreciated by local people even this modern day when so many Japanese cook have leant in France and a plenty of French restaurants from casual bistro to luxury exist in Tokyo.
Let us tell you the experience at such established French restaurant by French owner-chef.
After we were welcomed by the receptionists, beautiful antique-taste plates were waiting for us on a table. The interior decoration is quite classic as if we were invited to a traditional "manor-house" in Europe. If your visit is in Winter, a "real" fireplace will also welcome you. It is rare to be found in Japan.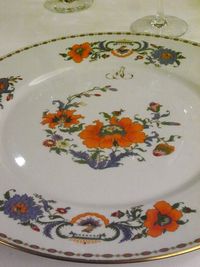 We ordered a lunch course with starter, soup, main dish and dessert and some wine...
Starter, carpaccio of mackerel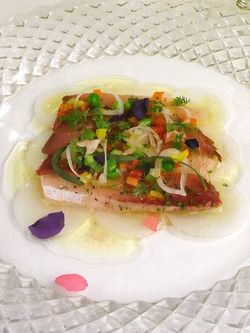 It's interesting to try fish Aji(鯵, mackerel) which is often used in Japanese cuisine but not so often in French. As same with green beans served as amuse-bouche, the plate remind us Spring season.  
Main dish, Cassoulet in Aude Pays Cathare (for 2 people)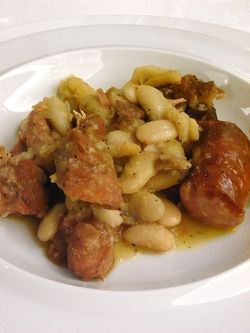 It is a specialty of Restauran Pachon as well as traditional cuisine of Languedoc region in South France. It is cooked meat and beans in a traditional earth pot. All ingredients are well cooked in the traditional cooking tool and it has very soft texture. It is a good choice especially in Winter, as it keeps our body warm.
After such traditional and authentic French plate, we were also delighted by beautiful spring colors. 
Seasonal Dessert,
roll cake with yuzu (Japanese citron) cream and mango flavor ice cream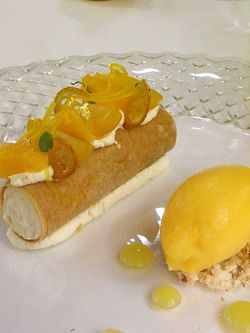 After the joy of citrus flavour, we also enjoyed a few pieces of petite fleure. 
In addition to historic French dish like Cassoulet, as the proof of his long experience in Japan, the chef is good at taking Japanese ingredients in his work at the Michelin-awarded French restaurant. What we tasted and visually what we saw all surely has the value for the restaurant guide's evaluation.
Restaurant name: Restaurant Pachon
Address: Hillside Terrace B, 29-18 Sarugaku-cho, Shibuya-ku, Tokyo
Website: http://www.pachon.co.jp
View Larger Map