Following the last two posts featuring food related topics at Tokyo Disneyland, first about Restaurant Hokusai  and the second post, souvenir of Japan available at Tokyo Disneyland, this post features an interesting product we found at Tokyo Disneyland.
It is FURIKAKE (ふりかけ), as you may know from our previous post, it is seasoning specialized in Japanese style cooked rice.
This Furikake will be the best to place on rice in your lunch box. It will be fun to prepare and to show it to your friends.
Well, the package is like this.
We found at a souvenir shop in Tokyo Disneyland.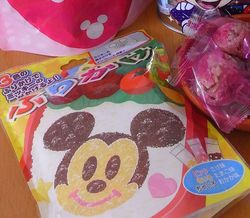 Normally Furikake is sold solely with single or assorted flavors
but this package is not so simple.
Sticks in three different colors of furikake powder and
Mickey face template sheets included.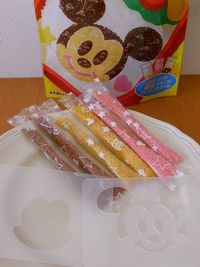 Let's make a cute lunch box now.
Following the instruction,
a template is placed on a lunch box with cooked rice
 and put the yellow (egg flavor) furikake within the space of template.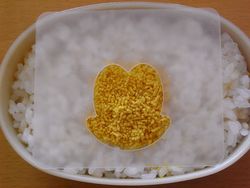 As the second step, with the second template sheet  
two other colors are added one for head, ears, eyes and nose of Mickey Mouse
the one in pink is used only for his smiling mouth.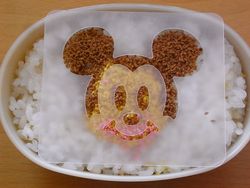 Then remove the sheet and find Mickey face you drew!!
Blurred !?!?
Never mind!! A pack includes three sets of Mickey Mouse drawing.
So you can try three times and will do it better next time!
The product introduced above, Mickey Mouse furikake, is available at souvenir shops at Tokyo Disneyland.
Related post: Furikake (ふりかけ), to make your rice more tasty!
http://aboutfoodinjapan.weblogs.jp/blog/2012/06/furikake-to-make-your-rice-more-tasty.html