Through our two last posts, we believe you have already leant the simplest Japanese food, TKG or Tamago Kake Gohan (rice with raw egg). Today, in addition to the traditional style, we introduce TKG arranged with food ingredients which are maybe more familiar for you.
Such TKG arrangements are introduced in a book published 5 years ago "365days of Tamagokake Gohan recipes(365日たまごかけごはんの本)". The book suggests many different and some unusual ways to enjoy (might be not for some though) TKG, rice with raw egg.  
The recipe book is actually available in English from the same publishing company but it is sold only through the Japanese version website. For those who can order it in Japanese, please clieck here.
Inspired by such unusual recipes from  "365days of Tamagokake Gohan recipes(365日たまごかけごはんの本)", here we also tried a few of newer types of TKG.
TKG with typical Italian ingredients, Tomato & Parmesan cheese & Raw ham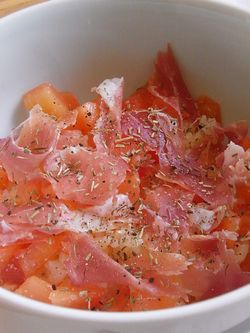 Not bad, salty taste of raw ham is well matched with raw egg.
It can be like Italian rice dish, risotto.
TKG with butter, "nori"(海苔, seaweed) and soy sauce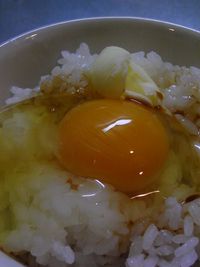 a bit arranged with butter and seaweed 
 from the most popular way just with soy sauce
We could not feel butter taste so much as it was melted by the heat from cooked rice
but surely butter gives sweetness and subtle flavor
to the Japanese traditional food. 
TKG with canned tuna, cheese, mayonaise and soy sauce
Although we did not try this time, green leaf vegetables, mushrooms and fish or seafood such as salmon and shrimps will be also well matched with raw egg.
Try and find your own original TKG recipes!!!