An interesting dining area was recently opened in Kyobashi (京橋), Tokyo. The area name may not be so familar for many international travellers. Kyobashi is an office district between Ginza and Nihonbashi. It's 5 minutes walk both from Ginza and Tokyo station. Recently a new high-rise building was opened along with commercial complex "Tokyo Square Garden" accommodating various attractive food & beverage facilities. Here we would like to introduce one of them. For others, definitely we will have another chance to cover them near future.
Denmark The Royal Cafe Terrace is located on B1 (basement 1st) floor of Tokyo Square Garden, which is directly connected to/from Exit No.3 of Kyobashi subway station on Ginza line.
Furniture and wall are decorated in various colours.
Even from outside, it looks to be a fun and cosy place. 
Physically it is on the basement floor but the cafe is located in front of a large courtyard where sunlight directly comes in. When the weather is fine, seats on the outside terrace must be the best place!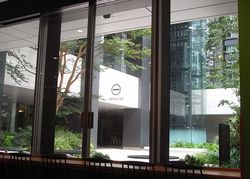 When I ordered "Royal milk tea", it was provided with cute latte art!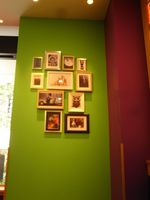 For lunch, Denmark style open sandwich is also available and on weekday it opens for breakfast from morning.
Cafe name: Denmark The Royal Cafe Terrace
Address: B1 floor, Tokyo Square Garden 3-1-1 Kyobashi,
Chuo-ku, Tokyo
 Official site (in Japanese): http://www.tokyo-sg.com/shop/b1_01.html
大きな地図で見る