Following our first post as a series of "Affordable dining choice" Sushi, today we are going to introduce an "Italian" restaurant chain in Japan.
We understand that you would not consider visiting Italian restaurant, while traveling in Japan. Not only French cuisine, Italian cuisine in Japan is also kept at good quality. Some people say that it is the second best after the origin country. Today's topics is not about such high-end Italian restaurants but we can say that Saizeria is still one of the best choices among very casual inexpensive restaurants in Japan. 
What is amazing for Saizeria is the balance between price and value or quality of food provided. 
Anyway, let's see how they are... 
The most popular menu Milanese Doria(rice gratin with meat sauce)
at Yen 299!!
with poached egg (+Yen69) = Yen 368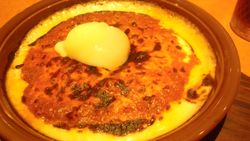 Pizza with salami & bacon(left photo) and
Shrimp risotto with tomato cream(right) each at Yen 399 !!
Hamburg steak with cheese and tomato sauce at Yen 499/plate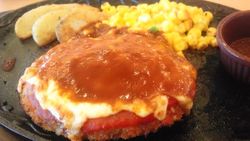 As side dishes, rice plate or garlic toasts each at Yen159
can be ordered together with the main dish.
Not only the food but also drink prices are also surprising.
It is less expensive than a bottle of tea purchased
at a convenience store or vending machine.
We believe now you understand the reason why we recommend the Italian restaurant chain in Japan. Sometime, it is a good idea to save money for one day and to spend more on another day. 
Not only for meal, Saizeria is an option for taking a break with coffee or tea.
It offers "all you can drink" , called "drink bar" in Japan at Yen 270. The price will be discounted to Yen 180 when ordered with meal. The system includes self-service all you can drink for several kinds of soft drink, such as soda, juices, coffee and tea. Of course, it will be good with Tiramisu, a half cut at Yen189!!
Saizeria Italian restaurant chain offers almost 1000 units across Japan and in Tokyo it has 200. It will not be so difficult to find one. Many are open for lunch time to dinner time without break.
Restaurant name: Saizeria 
Official chain website: http://www.saizeriya.co.jp
 Followings are some of their units in central locations.
 
Ginza
Address: Ginza Ins 2nd floor, 3-1 Ginza-Nishi, Chu0-ku, Tokyo
View Larger Map
Shinjuku
Address: Fuji building 2, 1-16-4 Nishi-Shinjuku, Shinjuku-ku, Tokyo
View Larger Map
Shibuya (near Tokyu Hands)
Address: 2nd floor Village 80, 39-2 Udagawacho, Shibuya-ku, Tokyo
View Larger Map
Asakusa Shin-Nakamise street
Address: B1 floor, 1-21-8 Asakusa, Taito-ku, Tokyo
View Larger Map