Following our last post reporting a unique casual restaurant extremely specialized in fried rice, Chanan Ou or the kind of fried rice, today we introduce another unique experience that can be described a kind of B-grade gourmet (B級グルメ) by locals. 
The flagship restaurant is in Kinshicho (錦糸町), a residential town situated East Tokyo. Some of you might stay in the area, as the town has a few of international-standard hotels. Kinshicho is a vital town with a plenty of casual restaurants & bars. It is a 10-minute ride from JR Tokyo station or less from Akihabara, further more it is about 20 minutes walk to Tokyo Skytree Tower. The restaurant is about 5 minutes walk from the JR train station. 
 The unique Ramen restaurant is called "Taiyo no Tomato men"(太陽のトマト麺), representing "Sunny tomato noodle".
YES!!!
Can you imagine?! Ramen + Tomato!! the food often used for Italian dishes.
Tomato is quite popular food ingredient for Italian pasta, salad even in Japan.
Needless to say, Ramen is too. But can Tomato go with Ramen ?!
The anwer is here,
my order, Cheese Ramen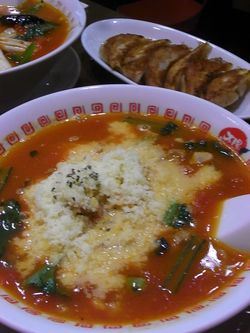 They go well and matched!!
Surprisingly!!!
As seen, the soup is in rich with tomato,
while the noodle is surely ramen, not spaghetti.
What may be better than tomato sauce spaghetti is that we can enjoy more the tomato flavor in such large volume of soup. As a kind of Ramen, it must be healthier than ordinaly ones whose soup is likely to be made from pork, beef etc.
Tomato is said to have strong antioxidant effect, which is very attractive especially for all ladies seeking for more beauty. Because of that, Taiyo no Tomato men has more female guests compared with ordinary ramen restaurants. According to the restaurant official website, the soup contains thick Tomato juice from 3 pieces per bowl. After trying with many kind of spieces, the restaurant owner decided to use only San Marzano made in Italy for the soup, as he believe that it is the best for their menu.
If you wonder, try the bowl by own to know how much Ramen and tomato go well together!!
Unlike an ordinary ramen restaurant but like an italian restaurant,
we found TABASCO sauce and chilli oil on the counter.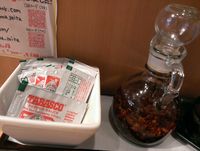 Season by season, time by time, we can find some special menu for limited period.
This is for summer version, with shrimps.(Description and photo added on August 2014 )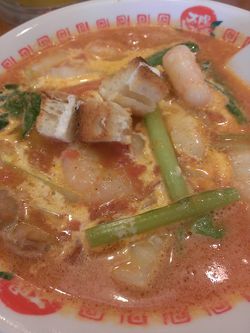 If tomato is not your taste, alternative menu is available.
Chicken paitan (white soup) noodle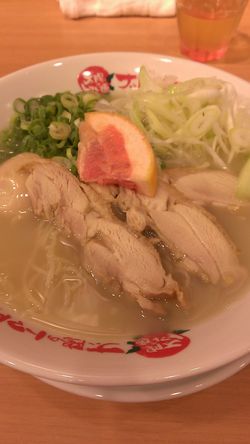 Other menu recommendable at the Italian-inspired Ramen restaurant are
Rice: Here it is called "Ra-Riso". It is served to put into the noodle soup, after you finish noodle. As we can imagine, it become closure to Italian menu Risotto.
Gyoza (Chinese dumpling) : It is a typical menu at a ramen restaurant. Here tomato is used even for this Gyoza filling.
Chicken Paitan noodle: for those who would not like take Tomato soup, the restaurant offers also Ramen in thick chicken stock soup.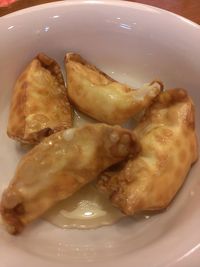 Fried cheese: It looks like "Gyoza" but cheese is inside with sweet honey sauce.  
In addition to the flagship restaurant in Kinshicho, the ramen restaurant, Taiyo no Tomato men, serves you at some central locations in Tokyo, such as Suidobashi (Tokyo Dome stadium area), Shinjuku, Kayabacho (Nihombashi).
Restaurant Name: Taiyo no Tomato men (太陽のトマト麺)
Official website (In Japanese): http://taiyo-tomato.com
Kinshicho flagship shop
Address: 1-11-8 Kotobashi, Sumidaku, Tokyo
Shinjuku 
Address: 7th Floor Odakyu MyRoad, 1-1-3 Nishi-Shinjuku, Shinjuku-ku, Tokyo
Suidobashi
Address:  2-17-8 Misaki-cho, Chiyoda-ku, Tokyo
Kayabacho
Address: 7-7 NIhombashi Kabutocho, Chuo-ku, Tokyo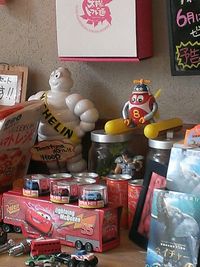 Shin-Ochanomizu
 Address: A.PLAZA1F, 3-2-6 , Kanda Suruga-dai, Chiyoda-ku, Tokyo
We found some cute decorations at the entrance of Shin-Ochanomizu unit.