We often hear comments from international travellers who traveled in Japan that prices in Japan have not been so higher than they had thought before visiting Japan. We are sure it is true especially if we consider the value and quality provided vs the price. The good example is UNIQLO. Clothing items in UNIQLO are inexpensive as much as other Fast Fashion global brands. But for the quality as cloth (not the aspect of fashion), we believe, UNIQLO is much better than others. Or McDonald in Japan offers good level of hospitality and cleariness in addition to global standard hamburger at Yen100.
Not only McDonald, we can find some dining options whose prices are inexpensive but the quality is enough good and exceeds the price value. As a series of consecutive posts, from today, we will introduce several casual restaurant chains that are recommendable as "affordable choice".
Well, the first choice is SUSHI, one of the most famous Japanese food.
Sushizanmai (すしざんまい) is one of the most popular sushi restaurant chains in Tokyo and surrounding. Having its flagship unit in Tsukiji outermarket area, Sushizanmai restaurants are scattered across major spots such as Roppongi, Asakusa and Shibuya in Tokyo.
The president Mr Kimura is well-know for his winning record at new year tuna auction of Tsukiji market. The company not only runs Sushi restaurants also has a school of Sushi cook.
We visited Sushizanmai Yurakucho-ten(branch) which is underneath the railway tracks between Yurakucho and Shinbashi stations on Yamanote line. In the area along the railway and highway, casual and interesting restaurants gather and attract local business people, while it is adjucent to a largest luxury shopping spot Ginza and not far from Imperial Palace and Imperial Hotel.
Entering into Sushizanmai Yurakucho unit, we found that a few of sushi cooks in white coat welcomed us over Sushi counter. If you would, the restaurant can provide a place at the sushi counter or if you visit it with a small group, large tables are also available. Apart from sound of Shinkansen "running over" us, it is a typical comforable Japanese restaurant and we can forget that it is underneath the railway.
The price of sushi starts surprigingly from Yen 103 per piece, Tuna from Yen134.
When we went there for lunch time,
Maguro-don (Tuna on rice bowl) with miso soup is offered at surpriging price,
Yen 500!!!
Assortment Sushi set from Yen 840 for lunch time
and from around Yen 2000 for dinner.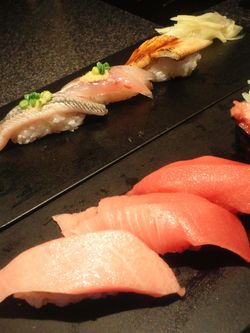 Surely they are prepared by Sushi masters
with selected high quality ingredients.
So the price is incredibly reasonable...we believe.
Prices could be slightly different unit by unit but still they are good reasonable prices.
Restaurant name: Sushizanmai (すしざんまい)
Official website (in Japanese): http://www.kiyomura.co.jp
Yurakucho unit
Address: 2-1-3 Yurakucho, Chiyoda-ku, Tokyo
Honten (main branch)
Address: 4-11-9 Tsukiji, Chuo-ku, Tokyo
Roppongi unit *opens for 24hours!
Address: Sankei28 building, 3-10-9 Roppongi, Minato-ku, Tokyo
Shibuya Tokyu Honten-mae unit *opens for 24hours!
Address: Saito III Building 34-5 Udagawacho, Shibuya-ku Tokyo
In front of Tokyu Department store Honten
Asakusa unit
Address: 1-43-9 Asakusa, Taito-ku, Tokyo
****************** Find accommodation in Japan ***************
OSAKA / NARA / SAPPORO / TAKAYAMA / TOKYO/YUFUIN
YAKUSHIMA / NOZAWA ONSEN / NISEKO / NIKKO /

HIROSHIMA / MATSUMOTO / KYOTO / KANAZAWA / ISHIGAKI ISLAND /