Many of you may already know the word "Yakitori"(焼き鳥 or 焼鳥). It is Japanese casual food, skewered and char-grilled chicken, which can be often found at Izakaya(Japanese casual bar & restaurants.)
Actually the styles of Yakitori vary interm of ingredients(parts of chicken used), seasoning(salt, special sauce, soy sauce etc). They are different by region and by individual restaurant across Japan. Zen-Ya-Ren(全や連), which we introduce here, is a place where we can taste such different types of local Yakitori across Japan, while we stay in Tokyo.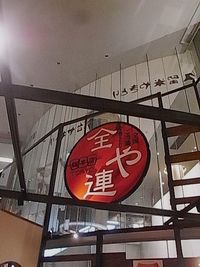 The restaurant's name "Zen-Ya-Ren(全や連)" implies Zen(All), Ya(Yakitori), Ren(rengo or renmei in Japanese, anyway "an united group"). It means united Yakitori providers across all Japan. 
On the underground floor, direcrly connected from subway passage in Otemachi central office district near Tokyo station, 7 Yakitori restaurant operators in Japan from noth to south are gathered in a restaurant called Zen-Ya-Ren with spacious high ceiling space surrouded by glass walls.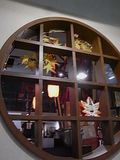 Inside, in addition to a large open space in center, the restauran has 7 small rooms each with noren(short curtain with restaurant's logo), as if each room was a small local Yakitori restaurant. 
Wherever you have a table, food & drink menu are same and you can find a variety of choices from 7 different local regions.
Well, let's see what are the 7 different regions and their Yakitori.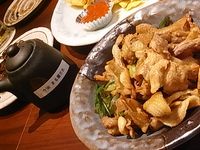 First we had non-skewered Yakitori from Imabari, Ehime, Shikoku region.
The crispy chicken "skin" became my most favourite plate there.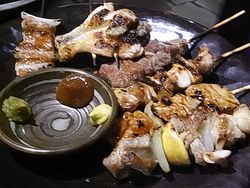 For 6 other regions, from right bottom to left upper side,
they are ... 1. organ with onion from Bibai Hokkaido,
2. dipped in special sauce with homemade receipe from Muroran, again Hokkaido,
3. the region's chicken brand "Date-dori" from Fukushima, Tohoku,
4. Served with "Monde Selection" award-winning miso sauce from Higashi-Matsuyama, Saitama, East Japan, 
5. Chicken Wing from Nagato, Yamaguchi and
6. With local specialty condiment "Yuzu-kosho" from Kurume, Fuokuoka Kyushu region.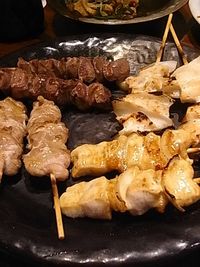 Although we had much focused on having different Yakitori, wide choices of side dishes from these 7 regions are also available.
Such as 7 different versions of tofu plate, gyoza, local specialties of seafood, chicken rice bowl etc.
 No exception for alcohol drink selection!
The restaurant offers local brands Sake from the 7 regions.
Try different types of Yakitori from each differnt parts of Japan, even without traveling out from Tokyo.
Restaurant name: Zen-Ya-Ren (全や連) Tokyo
Address: Tokyo Sankei Building B2 floor, 1-7-2 Otemachi, Chiyoda-ku, Tokyo
Official homepage (in Japanese): http://www.zenyaren.jp
View Larger Map