As a series of Okinawa report, following our last post introduced the most popular local food market Kosetsu Ichiba, here we show another food market in Naha, the capital of Okinawa.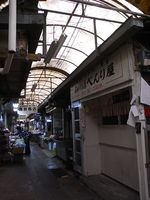 Sakaemachi Ichiba (栄町市場), founded in 1949, is situated a minute walk from Asato(安里) station on mono-rail. It is known that the market remains un-changed since the beginning just after the World War II and it shows us the life of Showa period over decades ago. 
Sakaemachi Ichiba is a kind of local shopping arcade. Under the covered semi-transparent roof, we can find food grocery shops, delicatessen (if we express in modern way), restaurants & bars and kitchen goods store etc. It's a great chance to see a piece of local people's life.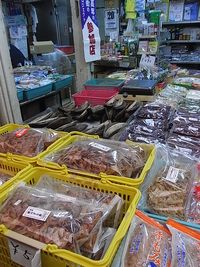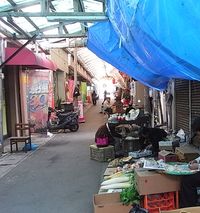 In some parts, we can find the iconic scenes of local markets in Okinawa. Local farmers sell vegetables on the road, while working and preparing bean sprout. 
On January, some cakes for Chinese New Year event are on the shelf.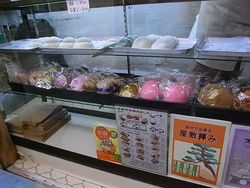 One of the most famous local restaurant,
Urizun (うりずん) is also accommodated in Sakaemachi market.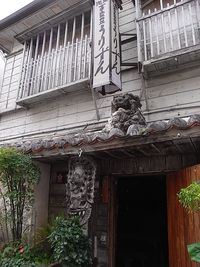 On the visit, thanks to recommendation by a local guide,
we visited a restaurant which provides very unique local food.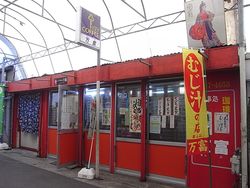 Manpu (万富) is casual local dining with several seats along a counter. Its specialty is called "Muji-jiru"(むじ汁). We, the ones come from Tokyo, have never heard the word, muji, apart from the well-known variety store MUJI. Here "muji" represents leaf of taroimo (a kind of yam potato). At Manpu, muji is carefully prepared through several process to cook and freeze it once in order to make the taste better. 
Muji-jiru, thick soup in a big bowl is almost filled with the fibered vegetable.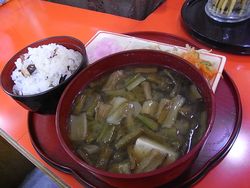 Thanks to the great effort by the cook or restaurant owner, the texture is very soft and no strong perfume nor bitter taste. After having muji-jiru, I felt warmer and healthier by myself. It should be good especially in winter.
Two different side dishes, both home-made recipe.
The madam of the shop owner proudly told that sometimes she welcomes even guests from abroad. The restaurant was recently featured by national TV network, NHK.
In addition, a new face of Sakaemachi Ichiba is "Bistro Le Bon Gout" is located near the East Gate.
The cute sign of gray goat on the orange color background implies something good for us, even though it had not been opened yet when we visited late January 2014. It provides goat meat, one of Okinawa's specialty as well as sophisticated Western food made from fresh Okinawa's local ingredients. Next time we are looking forward to visiting it!!
Facebook page of Bistro Le Bon Gout: https://www.facebook.com/Bistro.Lebongout