This is the third post introducing food market in Naha, Okinawa, following last two about Kosetsu Ichiba and Sakaemachi Ichiba.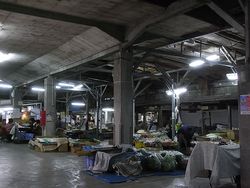 Noren Ichiba(農連市場), founded in 1953, is situated in south east part of Naha central town. It is a bit far from any of Mono-rail station but is about 15minutes walk from Kosetsu Ichiba and Kokusai-dori or 10minutes from Yachimun (pottery) street. Otherwise public bus runs from Kencho-mae(Prefecture government office). For those who are interested in local food markets, it will be worth taking 15 minutes walk to go/from. 
We visited Noren Ichiba in very early morning, a bit late from 6a.m.
The market opens from 1a.m. in the morning and serves mainly to professionals such as restaurant operators until around 5a.m. After 6a.m., the market targets more widely to public, general consumers.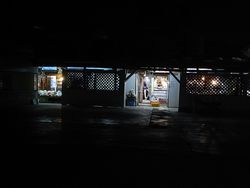 The vast area of Noren Ichiba is similar size with a baseball stadium. The flat building looks rustic with thin roof and wooden flames in some parts. However the building was designed well to let wind out from all four dimensions and it remains since the foundation over a half century ago by managing to survive in several typhoon hit every year. The appearance was not changed since that time. Because of that, the market was filmed even for a popular drama "Churasan" by NHK(Japanese national broadcasting station).
Unfortunately, from 2014, this year!!, the market will be demolished block by block for re-development. So if you are interested in viewing this Showa style old-day market, just hurry up!!
 It won't be difficult to walk around inside the market even without a map, while finding local agricultural products, sweets etc.
Here what we found there are..
Shima-Tofu (島豆腐Tofu in Okinawa local style)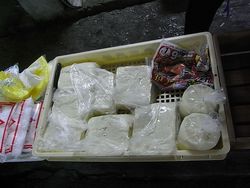 Tofu in Okinawa has less water (75%), compared with ordinary one (82%) sold in mainland of Japan. Due to the harder solid characteristic, Shima-Tofu is often used to fry with vegetable etc, like Goya-chanpuru the most popular local specialty of Okinawa.
Kubu Irichi
(クーブイリチー kobu kelp and DaikonJapanese radish sautee)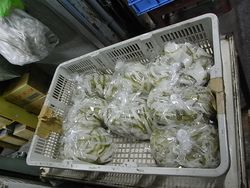 Fried Kobu and Daikon is popular dish in Okinawa. It can be often seen as a side dish of set menu in local restaurants. Kobu kelp is not produced in Okinawa but is "travelled" from Hokkaido, the most north of Japan. It is brought as the result of Okinawa's former position, a trading hub in East Asia a few hundreds year ago in Edo period.
Moyashi (soy bean sprout)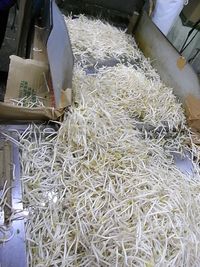 We have never seen such large volume of moyashi.
Place : Noren Ichiba (農連市場)
Address: 2-4-1 Okegawa, Naha-city, Okinawa
Close: Sunday