After our series of posts related alcohol drinks, from today, we will introduce you a few topics about "sweets."
The first one is a Japanese traditional sweets shop near Tokyo Sky Tree.
It's called "Morihachi"(森八) opened in 1933, so now with over 80-year history!
The first feature of Morihachi is the exterior appearance.
 It can be found even from Tokyo Sky Tree tower, which is five-minute walk to the traditional sweets shop. As long as you take the right direction, you won't miss the building.
The castle like sweets shop is a bit out from a main street but it will be exciting just to watch the exterior even if you are not interested in sweets.
The shop interior also looks like the one coming from Edo period as same with the exterior. The small shop with small pieces of traditional sweets in show cases reminds us a good old days in Japan. It is obviously much different from a convenience store or supermarket where we often buy modern type of sweets.
Fresh and traditional hand-made-sweets look all cute. They cost around Yen 100-200 and most of them can be purchased piece by piece.
Among such sweets, the second feature is this.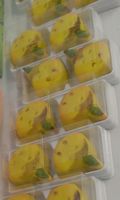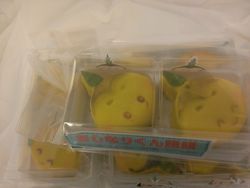 Oshinari-kun Manju (cake with beans paste)
"Oshinari-kun" is the mascot of Oshiage, the area where Tokyo Sky Tree is located. The character is inspired from a poet come from this area in 9th century or Heian era and he wears the costume in that period.
Two pieces of cake each with Oshinari-kun faces are packed in a plastic box.
One is "traditional" taste with red bean paste filling and another is "modern" chocolate flavor filling. So you will be able to compare and enjoy both traditional and modern taste!!
When you visit Tokyo Sky Tree, include to drop by Morihachi in your plan to discover Japanese traditional sweets under the latest and highest tower!!
Shop name: Morihachi 森八
Address: 1-3-6 Narihira, Sumida-ku, Tokyo