Happy new year 2015 !!
At the beginning of a new year, we introduce an interesting casual bar associated with an established sake brand Hakkaisan.
"Hakkaisan Sennen kouji-ya" (八海山 千年こうじや) is accommodated in a newer shopping complex called "Coredo Muromachi." Coredo Muromachi, consisted from 3 buildings standing next each other, is just in front of Mitsukoshi Department in Nihinbashi area. So it will be easier to find the complex.

"Hakkaisan Sennen kouji-ya" is on the ground floor of Coredo Muromachi "2." The shop consists of 2 parts. One side of wall is a boutique providing all line-up of Hakkaisan sake brand. On the other side, you will find a bar counter with several seats.
The casual bar in the shop offers some choices to enjoy the brand's sake in different ways.
On lunch time, the bar provides lunch menu whose main dishes are "cooked with sake or related ingredient."
My dish one day, "today's special" menu was
salmon and ikura(salmon roe) on top of rice.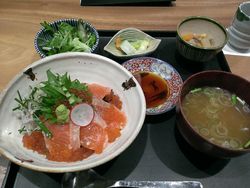 Where is sake?
The pieces of salmon has been dipped in "Sake-kasu" (lees from sake) which making food softer and sweeter taste. The pieces of salmon had sophisticated flavor and incredibly soft texture by the work of sake-kasu.
What a good work of Sake!
During bar time from 17h00, of course the bar offers sake menu, including a few sets to taste different types of Hakkaisan brand with several choices of snacks or local specialties of Niigata, the region of Hakkaisan origin.

It will be a good option to try and enjoy sake by an established brand, Hakkaisan in casual manner. Then if you like one of them, you can get a bottle at the boutique behind the bar.
Shop name: Hakkaisan Sennen Koujiya (八海山 千年こうじや)
Address: 1st floor Coredo Muromachi 2-3-1 Nihonbashi Muromachi, Chuo-ku, Tokyo
Website - Coreco Muromachi: https://mi-mo.jp/lng/eng/muromachi.html
Website- Hakkaisan Sennen Koujiya(Japanese only): http://www.sennen-koujiya.jp/shop/hakkaisan-sennenkoujiya