As many know, sake is Japanese local specialty alcohol drink made from rice. It has long history over 1000 years some times associated with Shinto or local culture. The making process is much different from other alcohol drinks in other parts of the world.
The taste is close to white wine made from grapes but it is sweeter in many cases.
As per Japan Sake and Shochu Makers Association, over 2000 sake producers across Japan offer over 10,000 different brands of sake. You must encounter different brands and taste each time you take sake, as same we do.
Some might seek for a learning opportunity about sake while you stay in Japan, others may be interested in a chance to try some sake brands. For such international travelers, we introduce Sake Plaza in the heart of Tokyo.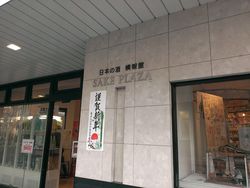 Sake Plaza is accommodated on the ground floor of Japan Sake and Shochu Makers Association's building located 5 minutes from JR Shimbashi station.It means it's in very center of Tokyo.
From outside, we can find miniature telling us how to make sake in old days.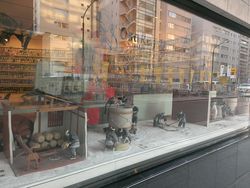 Inside, hundreds of sake bottles are displayed along a wall.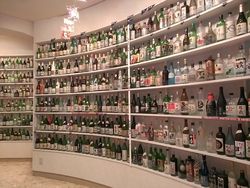 They are collected from sake breweries across Japan and they are lined up by precture of origine. Unfortunately they are only for display but not for sale, nor for tasting. Still it is insteresting to look at variation of labels and shapes of bottles. 
You can also get some detail infromation about sake in English. It will be helpful to purchase sake for gift or order the alcohol drink at a restaurant.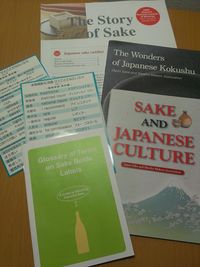 What shouldn't be missed here is "Sake Tasting". 
Ask the staff and you can try 5 different brands of sake with a small amount of cost. There the list of sake for tasting are ready in English. You can select 5 brands from the list by region or by types as you like.
Just one point to be noted is the opening hour/day. It is available only within business hours. It's close during weekend and opens only in mid-day.
So actually it's a bit hard for Japanese business people to visit it...
Spot name: Sake Plaza
Address: 1-1-21 Nishishinbasi, Minatoku, Tokyo
Opening time/day:10h00-18h00 Monday to Friday (except for new year holidays)

Website: http://www.japansake.or.jp/sake/english/about.html#Profile