To meet a Ninja and learn his/her magical method might be one of your dream.
There is a hidden spot in Tokyo, where we can meet some Ninja and enjoy nice dining experience as well.
Ninja Akasaka is located near Akasaka-mitsuke subway station in central Tokyo, not far from the official residence of Prime Minister of Japan. We often visit the area where we can find some other interesting restaurants such as produced Umaya by a Kabuki actor. But we have overlooked the house of Ninja for long years as the entrance exists almost in hidden location. Ninja Akasaka is on the ground floor of Akasaka Tokyu Plaza, where Akasaka Excel Tokyu Hotel is accommodated. The building can be found easily by anyone when they get out from Akasaka-mitsuke subway station. But it is not easy to find the entrance of Ninja Akasaka. 
Anyway, before looking for the entrance, we strongly recommend you make a reservation for Ninja Akasaka, because the restaurant is quite popular and is likely to be fully booked for every evening. Reservation is available from the official website here.
Well from here, it is our visit report....
Once we arrived at the restaurant, a couple of Ninja welcomed us and showed the way to our reserved dining table.
But on the way to the table, we were asked to take small training to be more familiar with the world of Ninja. Hahaha. Don't worry that was not so hard.
When we were finally seated, we got "a scroll" which is called "menu" in ordinary restaurants. To look at each of food descriptions on the scroll was fun, because most of them can never be found in any other restaurants. For example, "Shuriken star-blades grissini", Snow crab and grapefruit served "with a sword trick" etc.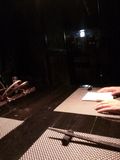 At Ninja restaurant, we were also asked to have "another training to find a call bell hidden around our table." That was another fun experience even though it was too hard for us. Hahaha... 

We have not been enough trained yet to be a Ninja!
We would NOT like to tell you so much about this restaurant, because that may spoil your surprising opportunities there. So we won't tell you so much but it was really joyful moment for sure.
We will show you a few more pieces of what we saw there.
One of icon menus, "Shuriken star-blades grissini" .

Treasure box served as ...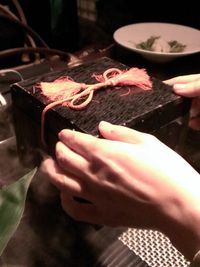 A cocktail served by a bowl for "goldfish"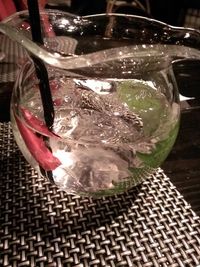 Ninja restaurant hires cooks from different fields such as Japanese, Chinese, French etc.
So all the menu sounds innovative and interesting to enjoy the world of Ninja at the same time the food is in good quality. It also offers some alternative cuisine menu for vegetarians and other with food diet restriction.
Their Ninja have served some VIP guests from the world. And the plates satisfied even such people.
It's quite worth to visit  there (with reservation!!) for having one of exciting moments in Tokyo.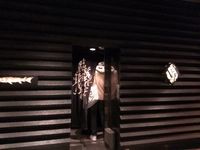 Restaurant name: NInja Akasaka
Address: 1st floor, Akasaka Tokyu Plaza, 2-14-3 Nagata-cho, Chiyoda-ku, Tokyo
Official website: http://www.ninjaakasaka.com