From some posts made on the last year, please let us add a couple of spots especially "for sweets lovers" to visit in Kawagoe.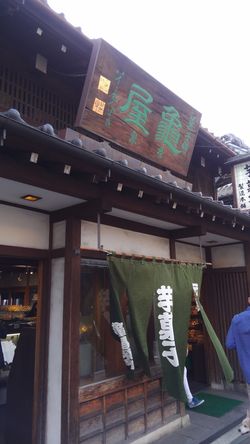 Kameya Eisen is an established sweets maker with over a century long history in Kawagoe, Saitame prefecture(30 minutes train ride from Tokyo).
In the middle of main street of Kawagoe old town, the exterior looks nice, reflecting the history of the house.
On the ground floor, the sweets shop offers variety of their traditional delicacies, as we can imagine.
For food lovers, please do not leave without visiting the upper floor!
The second floor space is open as a small exhibition hall and it introduces us the history of sweet potato product with the maker. The exhibition tells us how much the product has been appreciated by people for a century and how it had been produced in ancient time.
One of the interesting displays is "excursion travel tickets" from Tokyo to Kawagoe.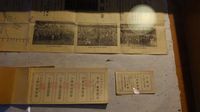 In a series of tickets, one is for "a bucket of sweet potato" offered
as local specialty souvenir to tourists visiting Kawagoe!!
For more information about spots in Kawagoe, please visit other pages,
 Kawagoe(川越), an old town easily accessible from Tokyo
Lunch spot in Kawagoe, Kasho Umon tea room
Spot name: Kameya Eisen
Address: 5-6 Saiwai-cho, Kawagoe City, Saitama
Open: 10h-17h 
Official website (Japanese version only):  http://www.kawagoe.com/kameyaeisen/information.html