Following our last post, here we put the second post on the series of Kawagoe (川越). For general tourist information about Kawagoe, an old town near Tokyo. Please check our first post from link HERE.
Today we introduce a small area in the old town. It is called "Kashiya Yokocho"(菓子屋横丁). Some of you could recognize the name can be very attractive for food lovers.
Kashiya(菓子屋) represents a sweets shop in Japanese and Yokocho(横丁) indicates narrow streets in dense area. So it is exactly an area where not a few sweet shops stand along a narrow street!! It means the place we should never miss it, when we visit the old town.
Well, Kashiya Yokocho is situated north side of the old town called "Kurazukuri" zone. If you have a tourist map of Kawagoe, the area will be on upper-left side. From the town's main street, it is a few minutes walk. The narrow street stretches in "L" shape like a line connecting two main streets on the old town.
Many small boutiques exist along the street and most of them are selling sweets, specifically traditional Japanese products such as colorful candy, rice crackers and snacks made from sweet potato. They have each different sweets products shop by shop. It will be fun to walk along the street, while checking their products each by each.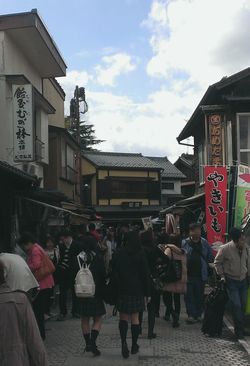 The street can be filled with tourists.
 Many shops are quite open to tourists and you will find price tags for each. Even not, most of sweets products are offered at quite reasonable prices unlike ones at department stores.
What to get at Kashiya Yokocho is "fried sweet potato" made from the most famous local specialty in Kawagoe. It looks like ordinary "fried potato" but sweets and harder. You can find a mountain of fried sweets potato at each sweet shop there. The rustic sweets made from sweet potato must be healthy refreshment on afternoon etc.
**********   UPDATE 27 June 2015   *************
A fire broke out from one of these sweets shops around noon on 21st June 2015.
Unfortunately the life of a shop master(age 90) was lost and 5 houses were burned down.
However from 26th June, almost of all shops in the area re-opened and the operation has got back to normal, apart from the five buildings burned.
No other facility is affected on this incident.
**************************************************************************
Related post: Kawagoe(川越), an old town easily accessible from Tokyo