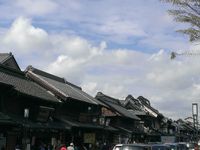 As a part of our blog series for Kawagoe (川越), today we picked up a recommendable lunch spot in the old town of Kawagoe.
On the main street of "Kurazukuri" town, you will find some restaurant choices from soba noodle to Western cuisine. Local specialty to try in Kawagoe is "sweet potato" and it will be served not only as sweets but also as an ingredient in meal.

Today's feature, Kasho Umon Sabo (tea room)/菓匠 右門 provides a typical local cuisine dish, "cooked rice with sweet potato"(芋おこわ, imo okowa).

Kasho Umon tea room is situated south of Kurazukuri town(old town of Kawagoe) along the main street. It is facing to a large car parking and on the ground floor, Kasho Umon's main products, traditional Japanese sweets, are offered at the front part. The tea room exist behind the sweet shop and it stretches to the upper floor.
The sweet shop's upper floor is totally in Japanese traditional style where we need to take our shoes off and to sit on tatami mats.
From the window side table, view of the vital main street is available.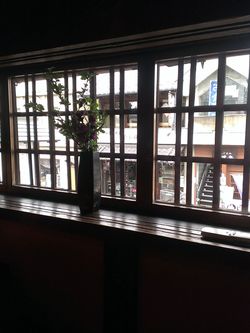 Cooked rice with sweet potato is served in a black basket with side dishes in a square box.

Here the cooked rice is called "Okowa"(おこわ). In general, okowa is also known as "Sekihan"(赤飯, cooked rice with red beans), which we take on celebratory occasions. For Okowa or Sekihan, instead of ordinary one, rice specialized for mochi (rice cake) is used as ingredient. So the cooked rice served as Okowa is stickier than normal cooked rice. In most cases, like sweet potato here, vegetable, bean or any other ingredient is cooked with rice for Okowa.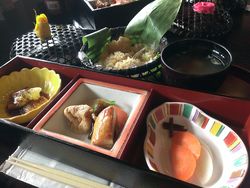 It offers 3 lunch set menus with the cooked rice depending on side dishes.
As dessert, if you would, you can order some of sweets available at the sweets shop on the ground floor. Of course, even without lunch, you can enjoy them for a tea time break.
Spend a calm lunch break during sightseeing in Kawagoe old town.
Shop name: Kasho Umon Sabo (菓匠 右門 茶房)
Official website (Japanese version only)
Sweet shop and company information:http://www.imokoi.com/index.html
Sabo (tea room): http://www.imokoi.com/sabo.html
Address: 1-6 Saiwai-cho, Kawagoe-city, Saitama