Teppan-yaki(鉄板焼き) literally means "roast on a hot iron plate" and is often used as a category of Japanese menu, a group of dishes roasted on a hot plate.
Surprisingly Teppan-yaki became famous in New York for the first time then it has been back to the origin country. Normally at a teppan-yaki restaurant, fresh foods such as beef, seafoods, vegetables, are cooked on a big iron plate by chef just in front of diners' counter table, not in kitchen. The cooking is like entertainment show there. Everyone must be reveted by the chef's hands moving around quickly and food cooked on the plate. The "aroma" come from food roasted strongly hits diners' appetite. Of course the food cooked on a plate is served in a few seconds to the diners, no time-loss of cooling.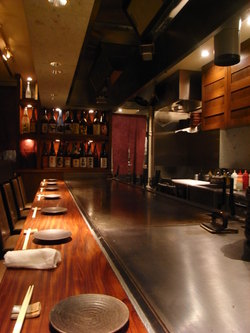 A teppan-yaki restaurant "Teppanya" is located in Kagurazaka, where still we can see some histric buildings and restaurants, Ryotei are scattered on slop ground in very central location of Tokyo. The restaurant building is also renovated from an old house.
There you will be able to enjoy typical Teppan-yaki foods at resonable cost. Do not forget requesting setas aside "the teppan-yaki counter" upon reservation.
The teppan-yaki course maybe the easiest choice and it includes...
Sazae(snail shell)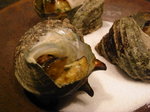 The most typical and the best one is diced pieces of Japanese beef...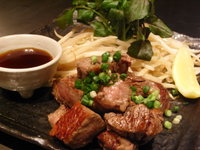 Okonomi-yaki (Japanese pancake)
*Related story - Okonomiyaki(お好焼き)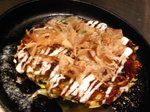 Restaurant name: Teppanya
Address: 3-1-4 Kagurazaka, Shinjuku-ku, Tokyo 162-0825
Website: http://www.teppanya.jp