Celebrating the friendship football match between Japanese and Belgian international teams, a Belgian beer bar in Tokyo planed "food battle Japan - Belgium", while the sports match was taken place by the same two countries in the same city.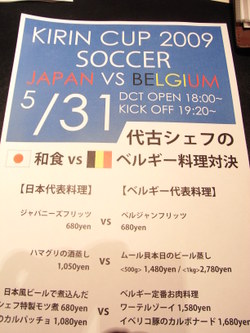 Traditional food from both countries lined up on the special menu list.
The 1st round - Potato
Japanese style fries...? never head about it.
The answer is sweet potato fries

It is rather sweet than salty.
This is neither a traditional nor typical bar snack, but is familier for Japanese as hand-made mum's snack for kids.
I guess, at least, high-fiber sweet potato is healthier food than the traditional Belgium speciality.
The 2nd ro
und - Clam cooked with alcohol
Hamaguri with sake, mussels with beer both are very traditional food.
Mussels should never be missed at Belgian bars.
Please do not leave the soup at the end.
After having all the mussels, clear soup left in the bowl is the second delight from the food. Enjoy the juice from mussels.
The 3rd round - traditional meat dishes
We could not reach to the stage, to be honest...
At the end of the intersting match, Belgian food goes well with Belgian beer not surprisingly, while Japanese food does with sake. I recommend for the next match, when we have, the bar brings sake
in order fairly to verify which one is better...
By the way, as for the football game, Japan won against Belgium; the score 4 - 0.
The bar provides selected Belgian beer including 50 kinds of draft brands imported directly from breweries in the origin country.
Restaurant name: Delirium cafe Tokyo
Address: Tokyo Club Kasumi Dining 1st floor, 3-2-6 Kasumigaseki, Chiyoda-ku, Tokyo
Website: http://www.deliriumcafe.jp
Normally it closes on Sunday.