Wagashi(和菓子) is the generic name represents all kinds of Japanese traditional sweets. It has been developped for centuries with tea ceremony schools. As it has been often served with green tea, many kinds of wagashi are very sweet.
Unlike traditional sweets in other parts of the world, wagashi attracts people not only with the taste but also with aesthetic appearance. We traditionally appreciate the beauty of four seasons. The mind is reflected in the world of wagashi. Hence traditional high-end wagashi masters create different products season by season, some times using seasonal ingredients.
Shimizu, a very traditional wagashi shop, is located in Kagurazaka, central Tokyo. Arriving in the shop after a minutes walk from Kagurazka subway station, we feel that we had a time trip to Edo era. The house exterior, inetrior and sweets made us imagine the ancient world. All of the small pieces in the showcase are fancy. It must be hard to select some from the attractive choices.
Finally I bought four different pieces. During summer, it has more products looks cool, like jelly.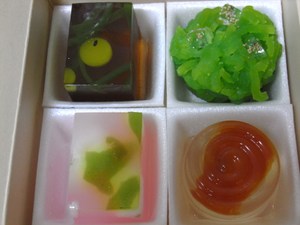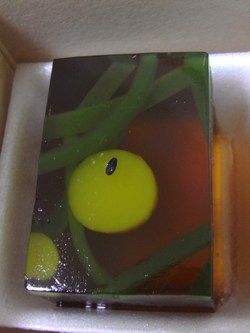 The most impressive work is tiny "firefly" in the center of the square-shape jelly.
It never be something unexpected, but should be there. The master dipicts a firefly lighting in the grass and the dark and he puts the world into a small piece of sweets.
How just a piece of sweet can be so romantic like this
I wanted to gaze the piece with joy for longer but I enjoyed having it as well.
Many kinds of wagashi are fresh and it is better to consume them within a short time after your purchase.
It is regrettable to finish it but I am looking forward to finding another piece in different seasons there.
Shop name: Shimizu
Address: 110 Yaraicho, Shinjuku-ku, Tokyo