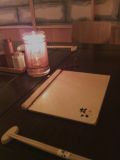 Finally I had a chance to visit Gonpachi. The three-floor Izakaya building looks like "kura"(蔵, traditional style storehouse with a few small windows) and is located on the corner of Nishi-Azabu crossing.
The restaurant is well-known for the casual dinner meeting arranged by Mr. Junichiro Koizumi, the prime minister of Japan at that time for the president of United States, Mr. George Bush.
 When I visited, the lower two floors were already occupied by dinners even it was not a weekend evening. We took a table on the third floor, where it serves also Sushi menu and where we found calm and cozy place. Japanese traditional works, paper slide doors, wood curving decoration, bonsai trees on the courtyard garden...the modern building is thought-fully designed and converted to a traditional style house.

The restaurants offer typical Izakaya menu such as "edamame"(枝豆, boild soybeans), Yakitori (焼き鳥, grilled chicken) and variety of Japanese dishes made with fresh ingredients. It also provides wide choices of Japanese sake, shochu with English words.
The last surprise was the amount of money we paid at the end. It was not expensive at all and nothing different from any other casual Izakaya everywhere. Considering the location, services provided by trained staff and quality of food, it has good value.
Related story -Izakaya Top10 by British newspaper
http://aboutfoodinjapan.weblogs.jp/blog/2008/03/izakaya-top10-b.html
Restaurant name: Gonpachi Nishi-Azabu
Address: 1-13-11 Nishi-Azabu, Minato-ku, Tokyo
Website: http://www.gonpachi.jp