Where is the popular restaurant by "Sushi King" located?
The answer is ... Hong Kong, not anywhere in Japan, to be surprising.
The restaurant owner Ricky Cheng, born in China and has working in restaurant business for years in Hong Kong, is known even in Japan as a person who has made the top bid for the highest quality Maguro (ton) at Tsukiji fish market several times. His company runs 15 sushi restaurants in Hong Kong, 1 in Macau and now 2 in Tokyo. This time I had a chance to visit one of them in Causeway bay, Hong Kong. A night during weekend, people had been waiting for their turn in front of the restaurant. After waiting for 15 minutes, we got our seats at the counter. 
To be very honest, this is the FIRST time for me to have sushi at "sushi-go-round"(回転ずし) restaurant... 
***Normally in Japan I only have sushi as dinner at upscale restaurants or order for home-delivery service. Personally for me, sushi is not an option for quick lunch or inexpensive experience. Just because of that, I have NEVER tried sushi-go-round in Japan. ***
What a existing experience to see sushi plates going round in front of me. I felt as if I were in Japan while looking at the plates, chef, tea cups. Ton, salmon, other fresh fish... typical menu do not look different from what we have in Japan. Taste as well. I found and liked some arranged version sushi with cheese, mayonnaise.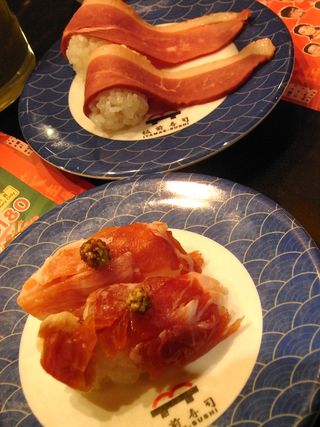 What I liked the most in the menu I had was actually very unique one that can never be found in Japan.
It is "smoked duck"!! and "raw pork ham" sushi.
Aren't they sushi? ...uh be relaxed and flexible!!
As for the price, it is less expensive than same quality sushi in Japan.
Next time I am sure that I try Itamae Sushi in Tokyo.
Restaurant name: Itamae Sushi 板前寿司 in Causeway Bay, Hong Kong
Website: http://itamae.com.hk