The most people check my last post about this sweets, GOUTER de ROI, crispy sugar coated rusk produced by GATEAU FESTA HARADA based in Takasaki, Gumma prefecture. The boutique in Tokyo still attracts a lot of people who are happy to make a long queue to get a pack of GOUTER de ROI. 
It offers the newer type of rusk during October to beginning of May.
This is it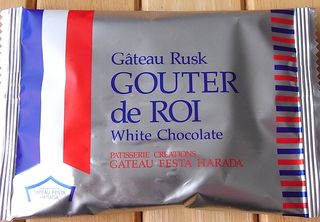 GOUTER de ROI White Chocolate
I cannot wait it, as I love white chocolate...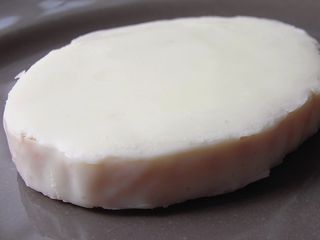 The piece is pure white.
It is a bit problem to hold it, as top and side of the small piece are all covered with white chocolate and it melts by heat from fingers.
Before it melts on fingers, let's bite it !
The rusk is crispy as same with the original version.
Of course the sweet chocolate coating is additional joy on it!
Fantastic!!
The white chocolate has been selected among tens of chocolate ingredients by Gateau Festa Harada product development team. It produces a good combination of rust and white chocolate, making the most use of flavours of butter and milk.
Unnn. I cannot wait for another piece!
Price:
GOUTER de ROI White Chocolate from Yen 420 by 5 pieces
Related story: Rusk "Gouter de Roi" - Gateau Festa Harada
http://aboutfoodinjapan.weblogs.jp/blog/2009/12/rusk-gouter-de-roi-gateau-festa-harada.html
GOUTER de ROI productes are available at food floor in following major department stores in Tokyo and Osaka.
<Tokyo>
Matsuya Ginza - http://www.matsuya.com/foreign/index.html
Keio Shinjuku - http://info.keionet.com/foreign/index.html
Tobu Ikebukuro - http://www.tobu-dept.jp/ikebukuro/
<Osaka>
Hanshin Umeda Honten (the flagship store) - http://www.hanshin-dept.jp/dept/english/