It becomes cooler day by day in Tokyo. When chilly wind blows and it reminds us that the winter is just around the corner, we feel like having hot food more than a few weeks ago. Stuffed cabbage stew is one of such dishes.
Stuffed cabbage stew is not originally Japanese food but is from Europe. The one served at Acacia is unique and excellent homemade cooking. It is hard to identify from which country the cabbage stew is from.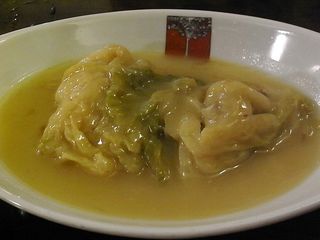 It looks very simple only cabbage and soup.
The soup is thick and a bit creamy.
The flavour is rich, although I cannot imagine how it is made.
The blended flavour from different ingredients is complex.
It is the taste that I have never had before at any other restaurants.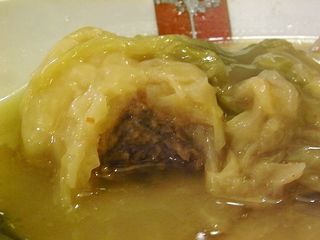 Inside of the roll, minched meat with spices is fully stuffed.
At a look, the dish looked simple.
At the end, we found how much the taste is complex; cabbage, meat, consome soup, spices etc.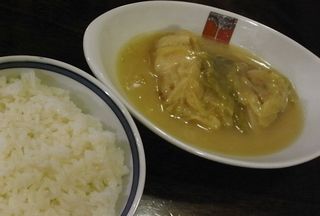 The set menu includes a rice bowl and two rolls of Stuffed cabbage stew.
Acacia oepned in 1963, almost a half century ago in Shinjuku. It keeps the homemade taste of stuffed cabbage until today. It is loved by people for that long time. Sometimes they makes a queue for waiting.
The restaurant's atomosphere is a good match with the food provided there. The retro-flavour interior decoration makes dinners feel romantic and nostalgia.  
Restaurant name: Acacia (アカシア) Shinjuku main shop
Address: 3-22-10 Shinjuku, Shinjuku-ku, Tokyo
Website: http://www.restaurant-acacia.com
Acacia also have 3 branches including one in Germany! Both in Japan seem to be in convenient locations for travellers.
Haneda International Airport branch - on the 2nd floor Market Place, the 2nd terminal 
JR Tokyo Staion - Gransta (inside of the station ticket gate) Basement 1st floor
Munster, Germany - Japanese restaurant "Tokyo Acacia"
                              Address: Friedrich-Ebert-Platz 2-48153 Munster
 Map for the main branch location