Gion Tokuya (ぎおん徳屋) is a very traditional style dessrt cafe in Kyoto, where Maiko (舞妓) and Geiko (芸妓) could also visit there for sweets and relaxed tea time. The new branch of Gion Tokuya opened in Harajuku (原宿), Tokyo last year. Here maybe no chance to encounter Geiko or Maiko in Harajuku but a good point is no need to make a queue like the main shop in Kyoto. (At least as long as I know but in future I do not know though...)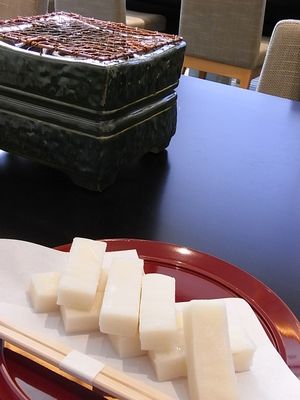 In Tokyo, Gion Tokuya is located on the ground floor of the well-known select shop, UNITED ARROWS. The sweets cafe is accessible even from the floor of Women's cloth in the select shop.
Entering into the small cafe, it is totally different world from the popular select shop. The traditional style interior decoration makes us feel as if we were visiting Kyoto.  
What I ordered is Tokuya's speciality called "Hanami Komochi" (花見こもち). It is a set of mochi (餅, rice cake) with five kinds of ingredients all well-matched with mochi.
As soon as we ordered the speciality, the shop staff switched on a brasier on the table. It is guests who has to bake eight pieces of rice cakes on the brasier.
How exiting is it
 I worry a bit whether I am able to succeed in cooking these rice cakes. 
Anyone will be motivated for the challenge when she/he finds a plate of five kinds of topping ingredients brought by staff.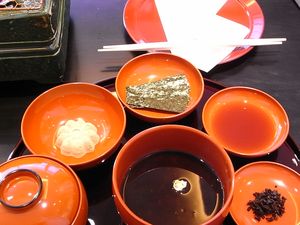 Zenzai (a kind of Oshiruko, sweets beans soup) is in a bowl on the center of tray. Other ingredients, from left to right, in counterclockwise, pickles of Japanese basil seeds, soy sauce (醤油), laver seaweed (海苔, nori), kinako (soybeans powder).
As you like, those eight pieces of mochi (rice cake) can be taken, piece by piece. 
Let's try to make mochi cakes grilled. 
Can you see? Afre five minutes, the square and hard cakes are heated and they are blown up like a balloon. When they become partly brown by heat and no longer square shaped cake, it is ready to eat. Take them out from the brasier quickly. 
First I dipped a few pieces into Zenzai.  
 
Then with soy sauce (醤油) and nori
 Kinako (soy beans powder) is set beautifully in flower shape.
But it has to be broken into pieces, after mochi is put on the plate...
All are the typical ways of having mochi. It is not so often to try so many pieces of mochi in different flavor. It is fun but you might have too-much-cooked and burned mochi in case you leave them on a brasier too long time, while thinking over what kind of flavor you prefer. At the same time, when we leave mochi left after cooked without having heat, the cakes become cool and hard soon. Just cooked is the best timing to have it.  So it is important to keep appropriate pace of grill and to put pieces one by one.
It is a kind of dessert but rice cake has heavy volume which is enough to be a light lunch.
Gion Tokuya in Harajuku offers not only Hanami Komochi set but also other traditional sweets menu such as Warabi mochi (わらび餅), Anmitsu (あんみつ) and Kakigori (かき氷). Normally mochi is served only in winter and Kakigori is only in summer. Here at Gion Tokuya, all these desserts are provided whole year.
Related story:
 Oshiruko (おしるこ、汁粉) http://aboutfoodinjapan.weblogs.jp/blog/2011/02/oshiruko-%E3%81%8A%E3%81%97%E3%82%8B%E3%81%93-%E6%B1%81%E7%B2%89.html
Shoyu (soy sauce, 醤油) http://aboutfoodinjapan.weblogs.jp/blog/2011/01/shoyu-%E9%86%A4%E6%B2%B9-soy-sauce-at-website-shokunin-shoyu-%E8%81%B7%E4%BA%BA%E9%86%A4%E6%B2%B9.html
Kakigori (かき氷)  http://aboutfoodinjapan.weblogs.jp/blog/2009/08/kakigori---chim.html
Cafe name:  Gion Tokuya (Harajuku, Tokyo)
Website: http://www.united-arrows.jp/harajuku/womens/tokuya/
Address: 2-31-12 Jingumae, Shibuya-ku, Tokyo 
Cafe name:  Gion Tokuya (Kyoto the main store)
Website: http://giontokuya.jp/