Waketokuyama (分とく山) by the chef Mr. Hiromitsu Nozaki is one of the most well-known upscale Japanese restaurants in Tokyo. 
There we were taken to the seats on the ground floor where the chef Mr. Nozaki welcomed us from open-kitchen counter.
It is another attraction to watch the chef and staff cooking and preparing food behind the counter. 
The menu is "Omakase"(おまかせ or chef's seasonal recommendation) only, as same in many of Japanese upscale restaurants. We do not have to select dishes from attractive selections. Just we are looking forwards to what we will see in front of us for next a few hours, after order Sake. It also provides some selections of wine. But for Japanese meal, we prefer to have Japanese alcohol which is the best match with fine Japanese food.
Here some examples from plates we had. The Japanese full course was counted to 9 dishes from starter to dessert.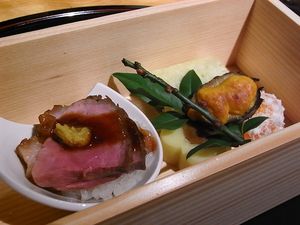 Assorted starter including duck with rice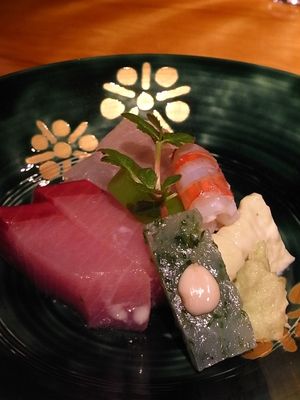 Assorted Sashimi plat
includes Buri (ブリ, 鰤, yellowtail) in season and rich taste.
With seaweed Konjac (海藻こんにゃく) and Yuba (湯葉, bean curd creap)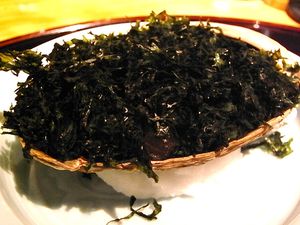 The restaurant's speciality, Iso awabi (磯あわび, abalon with seaweed)
The seafood grilled and covered with seaweed.
Unnn senced aroma from the sea...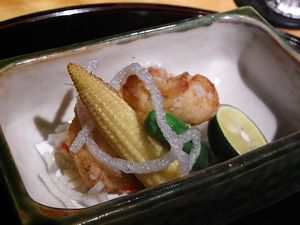 Fried Fugu (河豚, blowfish)!
As you see, many of dishes are seasonal seafood. Here we can have something which cannot be found at casual restaurants ... Of course all are filled in our stomach.
It is a part of Japanese hospitality that, after the amazing dinner, the chef and staff get out from the restaurant and they warmly see off every guest in front of the restaurant on the street. We also left from Waketokuyama with happiness.  
Mr. Nozaki is also known as the chef for the national baseball team at the Athene Olympics in 2004.
The main restaurant of Waketokuyama is located in Hiroo and the modern building build in 2004 is designed by an architect Mr. Kengo Kuma. 
Restaurant name: Waketokuyama (分とく山)
Address: 5-1-5 Minami-Azabu, Minato-ku, Tokyo
*No official website