I got an interesting souvenir from Kyoto. It is described as "Nishonshu bonbon"(日本酒ボンボン, sake candy) on the red label pasted on a white paper box. Many of us know "whiskey bonbon" or chocolate with whiskey inside. I am also curious more for the words "Jizake" (地酒, locally-brewed alcohol) and the branded sake production area "Fushimi" (伏見) in Kyoto.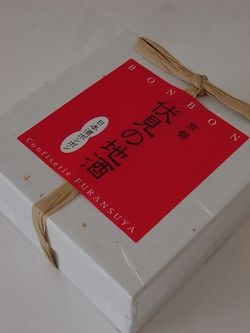 Opening the box, I found white frosted-glass like candies filled.
It is much more delicate than glass and is broken soon after being put in mouth.
Then "sake" liquid spreded from the sugar taste shell...
What an inetersting way is to taste locally brewed sake from Fushimi, Kyoto.
The Nihonshu bobon is made by a local pastry company called Furansuya (in Japanese, meaning "French house") based in Kyoto for decades and the sweets is sold at gift shop(s) in JR Kyoto station.  
Official website of Furansuya (Japanese only) http://www.furansuya.jp