Today's our topic is not directly related to food but we trust that it is within the interest of those who are planning to trip to Japan.  
Club Tourism International Inc., a major package tour organizer in Japanese market, conducted survey its clients who traveled to Tohoku region between May to December 2011, after the natural disaster on March the same year.
As the survey result, it is found that 96% of Japanese travelers are satisfied with their trip to Tohoku. At the same time, 95% responded that they would like to re-visit the region when they have a chance, for revitalizing the region and participating in interesting events, tours or volunteer activities. The high motivation to travel back to Tohoku is even stronger among those who had concerned about safety issue while traveling in the region. 
In addition, the average amount of purchase by these travelers at their destination was Yen 18630 which is twice as much as the average purchase amount in general by Japanese domestic travelers, Yen 8372, according to the research made by the National Tourism Agency. The fact represents that travelers to Tohoku region are eager to support the region's economy through their consumption of local products there.
Club Tourism also introduced some essential comments and find in the region by their clients: some travelers found that many tourist spots in Tohoku region have never be damaged by the natural disaster on the contrary to their preconceived notion that Tohoku region had been overall damaged.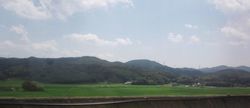 Near Fukushima-city, July 2012
from Shinkansen train
by About Food in Japan blog owner
The survey was conducted on January to February 2012 to clients who have taken part of Club Tourism tour packages to six prefectures including three where it was seriously damaged by the earthquake and tsunami on 11th March 2011. The number of respondents is 603 and 90% of the samples fell on age 50 to 70's.
Here is the link of related press release issued by Club Tourism International Inc. in Japanese.
Related link: http://www.club-tourism.co.jp/press/2012/0302.pdf
Club Tourism English website: http://www.yokoso-japan.jp/en/