Recently About Food in Japan site owner attended a speech by Mrs. Noriko Yanagihara (柳原紀子氏) at Edo Yugaku program (江戸遊学, Enjoy and learn from Edo period).  From her speech and book in Japanese, we found many interesting stories to know how our life and food are connected with Edo culture. We would like to share some of them here, of course, in English.
First of all, Mrs. Yanagihara is heading Yanagihara School of Traditional Japanese Cuisine, together with her husband. The family has organized "Kinsaryu" (近茶流) learning program for cooking technique, host manner, etiquette since Edo period. Even today, through their honorable activities on cooking classes and publishing, we are able to know traditional Japanese cuisine and manners related.
Here we briefly introduce some clues of culture in Edo period and what we can find in our modern life.
*Tokyo's main fish market was in Nihombashi (日本橋), before moved to Tsukiji.
As many of you know, we have the biggest fish market in Tsukiji. In Edo period, it was in Nihombashi, where we can find now Mandarin Oriental Hotel, Mitsukoshi Department flagship store and the Bank of Japan. We cannot sense feeling of seashore any longer there but a few hundreds years ago Nihombashi was very close to the sea.
We can find the vital fish market scene at Nihombashi depicted in Ukiyoe picture by Kuniyasu Utagawa as "flourishing Nihombashi fish market". 
Click here to view the Ukiyoe describing Nihombashi fish market (「日本橋魚市繁栄図」).
In modern days, some trace of the fish market can be still found in Nihombashi; established "katsuobushi" (dried bonito, essential ingredient of stock soup for Japanese cuisine) and "nori" (dried seaweed) houses and cooking knife stores are based in Nihombashi, we can find town name with characters representing beach or sea related, such as net (ami, 網) or beach (hama, 浜) for the area around Nihombashi.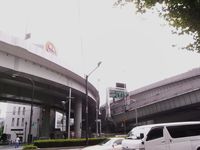 Nihombashi today
*Fast food in Edo period
 Sushi, soba noodle and tempura, which are appreciated as Japanese traditional cuisine and some even as luxury, had been started as "fast food" in Edo period. Under the centralized government system of Edo, many samurai and other class of men were forced to stay in the capital of Japan, Edo (currently called Tokyo), being away from their home town and from wife and family. At the end of their hard working day, they often enjoyed snack and light meal at food stalls instead of home-cooking by themselves. 
 We guess... these people preferred food that could be taken quickly and that made diners feel four seasons. Sushi, soba noodle and tempura, all are that sort of Japanese food. Then they have been developed to what we know nowadays since they were born as fast food for samurai.
Uh... It is an interesting story to know isn't it?
You might find a very small mound of salt placed on both sides of an entrance gate at a traditional Japanese restaurant. You must wonder why they do so.
The mound of salt is called "mori-shio" (盛り塩, heaped salt) and is made for wishing good luck. Salt has been one of the most essential ingredients along with rice for Japanese and is considered as implying "clean" or "purity". We can also see Sumo wrestlers throw a handful of salt into Sumo mound before they start a match. The custom is also to make the ground clear psychologically. Japanese have that kind of sense since Edo period. Especially Sumo matches were often performed in front of the emperor or at shrines in that period.   
Edo period was on 17th to 19th centuries and we feel that it is far from our life and is one a long long time ago. But knowing these stories, we become feeling familier a bit more with our ancestors and the facts may change our views to treat and understand what we have in this modern life.
We wish you feel same in somewhat