At the end of our monthly feature seriese for November 2012 "Ramen", we asked help of a Ramen-lover group for their recommendation from our food lovers network in Tokyo.
The group of some very enthusiastic Ramen lovers is actually a team working for another interest, not food or Ramen. But the team members love ramen so much that they always hold their meeting at a Ramen shop. The group is called "Cinema Colors creative team" which introduces the latest information of films in Japan through their website (http://eigairo.com).
We found the team's catch phrase on the official site....,
"Our meeting is always held at a Ramen shop.
We deeply love both cinema and Ramen.
Cinema Colors creative team "
( ミーティングはいつもラーメン屋。映画とラーメンをこよなく愛する、シネマカラーズ編集部) 
You see how much the cinema site creative team loves Ramen too?
As per our request, several restaurants are kindly listed by Cinema Colors creative team as their recommendation for international tourists.
From the list, we visited 3 Ramen restaurants. Here are the report of our experiences at these three Ramen restaurants recommended by the Ramen lovers team.
Stagaya (せたが屋) at Shinatatsu (品達) in Shinagawa
Characteristic: The first option is basic or general type of Ramen. 

Setagaya is one of the most popular Ramen restaurants in Tokyo. The name "Setagaya" comes from the district of same name (but different letters, 世田谷) where the flagship restaurant is located.
Location:
"Shinatatsu (品達)", where one of Setagaya units is accommodated, is another ramen restaurant collection site along a street, like
Tokyo Ramen Street
near JR Tokyo station, which we introduced on
another post
. It is a few minutes away from JR Shinagawa station.
If your accommodation is in Shinagawa area, it will be the easiest dining spot to enjoy Japanese casual local foods.
Recommendation comment from the local Ramen lovers' team:  Enjoy very-Japanese taste stock soup made from fish powder and dried bonite
Our visiting...
When we visited at around 9 p.m., most of seats and tables are already taken mainly by Japanese businessmen. It was a bit late as dinner time in Japan. The fact already showed us how much the restaurant is popular. We can imagine people waiting for the ramen if we visited earlier.
Our order definitely "Setagaya Ramen"(せたが屋ラーメン) that includes all toppings, even though it is a bit more expensive than others.
The restaurant is international tourist-friendly
as the menu in 4 languages, Japanese, English, Chinese and Korean.
Some ramen restaurants ask us some questions for how much to cook noodle, to put galic etc upon ordering a bowl of Ramen. At Setagaya, that sort of adjustment leave on the chef.
While waiting my ordered Setagaya ramen, we enjoyed the chef and the team were working in the kitchen over there.
This is Setagaya Ramen!!
The toppings include
char siu (braised pork slices), Menma (メンマ, bamboo shoot pickles),
Nori (のり, seaweed), Tamago (玉子, boiled egg)
and Aosa-nori (青さのり, special salty dried seaweed from Shimanto-River).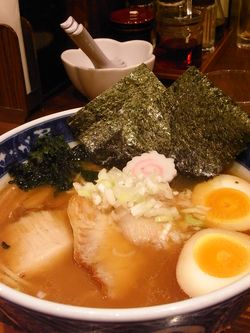 The soup referred by the Ramen Lovers team is rich and fish-origin flavor. But it is never too strong and that must be liked even by most of non-Japanese people who are less familiar with fish flavor.

If you wish more fish flavor like some Japanese locals, add the original special sauce "Gatsun-shiru"(ガツン汁) placed on your table.
The size of char siu is significantly thick. We were so happy to bite the melting piece.
Restaurant name: Setagaya (せたが屋) Shinagawa branch
Address:
3-26-20 Takanawa, Minato-ku, Tokyo
The Ramen chain operator also has an unit in New Jersy in U.S.A. 
Lucky for you, New Jersyite! You can enjoy one of the best ramen taste in your place.
Restaurant name: Ramen Setagaya
Address: 243 Main street, Fort Lee, NJ 07024
Characteristic: The speciality of TETSU is "tsukemen" (つけ麺, dipping style soup) as Rokurinsha on our previous post. The restaurant is accommodated in Roppongi Hills North Tower,  a luxury shopping complex. TETSU is recognized as one of the best Tsukemen restaurants in Tokyo, as it has been awarded by some Japanese medias.
The Tsukemen soup is profound mix of thick fish stock and chicken stock cooked for 2days.     
Location: Roppongi Hills North Tower is a part of the high-end commercial complex Roppongi Hills. The building is the closest to Roppongi subway station on Hibiya line. If you get off from Exit 1b, Roppongi station, the building is just a few meters away from the station gate. TETSU is on the Basement 1 floor, which is directly connected from the subway station and where many other casual restaurants gather on a floor.  The ground floor is occupied by Banana Republic on one side of Roppongi Street.
Recommendation comment from the local Ramen lovers' team:
The location, Roopongi, is easily accessible even by international tourists. The biggest feature at TETSU is a hot stone to be put into the tsukemen soup in order to re-heat the soup along the way. I
t must be fun for everyone to look at the Ramen soup heated by a stone. 
Like many other Ramen restaurants, first thing we have to buy a ticket for a Ramen bowl to order, before taking a seat. The restaurant's staff came to greet and will be happy to help a new guest for the automatic ticket machine. 
The restaurant's walls are decorated with red bricks and iron-looked black plates. With the pop BGM, none can recognize it as a Ramen restaurant but could believe that it is a Western style restaurant like "American style diner" where hamburger is often provided. We observed that this Ramen restaurant is fun and a bit different from typical ones.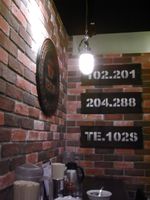 The restaurant asks all guests to wait for over 10 minutes until he/she get a bowl of noodle. The noodle is another feature of TETSU's Ramen. It is very thick like Udon Japanese noodle.
The restaurant offers a choice from hot or cold noodle depending on your taste. 
After 10 minutes or around from our order, we got our Tsukemen noodle.
The thick noodle is resilient and the texture is also like Udon noodle.
It is better match also with creamy tsukemen soup.
It is also interesting to have cold noodle dipped in hot soup. The cold and hot food are mixed in the mouth. 
"Ajitama" (cooked half-boild egg) is an optional ordered with supplement Yen 100. The value to enjoy the cooked egg is much more than a coin, Yen 100. Try it!!
One thing we regretted.... the tsukemen was so good to make us keep enjoying the noodle without a break and forget to order a hot stone to re-heat the soup, as recommended.
So we cannot show the stone and how the soup is heated visually.
Sorry, you can try it by own at Roppongi TETSU!
Restaurant name: Tsukemen TETSU 
Address:
B1 floor, 6-2-31 Roppongi Hills North Tower
Official website:

 http://www.tetsu102.com
Tsukumo Ramen (Ebisu Honten) (九十九ラーメン 恵比寿本店)
Characteristic:  Tsukumo Ramen (九十九ラーメン) seems to be a typical independent small Ramen restaurant at a glance. It has only two units in Greater Tokyo area.
It is a menu that makes Tsukumo Ramen differentiate from all other Ramen restaurants. 
We will of course talk further about the interesting food later.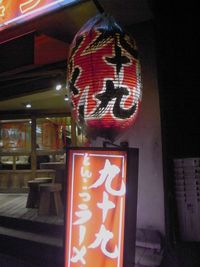 Location: Tsukumo Ramen is in Ebisu (恵比寿) for which JR Yamanote line serves and it is next to Shibuya. Some people may know Westin Hotel and Ebisu Garden Place with Michelin 3-star French restaurant, Joel Robuchon, as major spots in Ebisu.
The town is not known so much by international tourists but for Tokyoite it is one of the most attractive gourmet spots where we can find some small independent but very nice restaurants from casual standing bars to some Michelin-star-awarded. Tsukumo Ramen and its innovative menu may be appropriate for the town, we believe.
Recommendation comment from the local Ramen lovers' team:
Tsukumo Ramen's specialty, "Ganso Marukyu cheese Ramen" (元祖○究チーズラーメン) has a very strong visual impact and is served in the rich soup made from miso and cheese. The unique menu must attract international tourists too. 
Our visiting...
Tsukumo Ramen is about 5 minutes walk from JR Ebisu station which is one stop from Shibuya. It is located on a main street stretching away from the train station. As long as you hold a map for the direction, it won't be difficult to reach to the restaurant, going through a pedestrian bridge. 
The shop is enough big easily to find it from the exterior with a red "chochin"(Japanese lantern) lamp and a set of wooden table appropriate for family guests when the weather is fine. 
From the entrance, you will find the kitchen with a long counter table and some tables.
Like other popular Ramen restaurants, Tsukumo Ramen opens from lunch to dinner time (and much later until 5A.M. in the morning) without a break. 
Taking a seat on the counter table, we found three pots as condiments. 
They will be put into Ramen bowl to make the taste change a bit. 
Here we do not have to think over about what we should take.
We ordered "Cheese Ramen" as already decided.
Just keep in mind that  "Cheese Ramen" is available only for 200 bowls per day, maybe because of limited availability of the special cheese. 
As per the shop staff, the menu is likely to be run out on early evening around between 6 to 7 P.M. 
If you won't miss it, it is better to arrive there before 6 P.M. for early dinner or lunch.
Finally it is arrived!!!
The cheese is high quality award-wining, hand-made Tom cheese produced by Hanabatake Bokujo (花畑牧場) in Hokkaido.
It must be appreciated even if it is served only with a piece of cheese. But Tsukumo Ramen provides the cheese shredded and put on a bowl of Ramen.
The volume of cheese is impressively large like a full portion of Camembert cheese. 
For those who love both cheese and Ramen independently, Marukyu Cheese Ramen must be a dream combination.
Well, let's try.... when we try to have the first bite, cheese flavor struck us.
The way to enjoy the cheese the most, as per the restaurant's staff, is to make the cheese melt in the thick miso soup little by little. 
Actually it is interesting to have the Ramen in different way, just take a spoonful of cheese, enjoy mix of soup and cheese or have noodle with melted cheese.
We never thought Ramen with a mount of cheese until we came to know this Tsukumo Ramen. The combination is fantastic.
We could come here in a week...and are also a bit curious about other menu listed, Tsukumo Ramen with Tonkotsu soup, miso or shoyu Ramens.
Cheese Ramen at Tsukumo Ramen will become unforgettable meal for you too! 
Restaurant name: Tsukumo Tonkotsu Ramen (Ebisu Honten) (九十九ラーメン 恵比寿本店)
View Larger Map
We got some other Ramen restaurants recommended by Cinema Colors team.
We will keep trying to visit them and report that on this blog continuously even from next month!
Great thanks to the Ramen lovers' team, Cinema Colors!!!
Website of Cinema Colors (in Japanese and not mainly about food though):