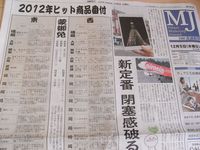 The Japanese major news paper specialized in marketing field, Nikkei Marketing Journal announced "Hits product ranking 2012" this month. Seeing the list ranked by categorized as Yokozuna / Ozeki / Sekiwake ... and two positions East/West taken from Sumo the Japanese traditional fighting sports, we are able to recognize what are the trends among Japanese locals. Japanese people like to discuss what I got or experienced or do know?! for products or services on the list to evaluate how much each of us could catch up with the new trends. 
Let's see the list of Nikkei Marketing Journal "Hits product ranking 2012" from the top.
Yokozuna 横綱 (the top rank) 
Tokyo Skytree 東京スカイツリー- The tallest tower in Japan opened on May 2012 is the most popular tourist spot of Tokyo among Japanese nationals. It was really lucky if we could get a ticket to climing up to the upper floor during the early months since opening.
Check out our post about a cafe as a view spot of Tokyo Skytree
Tokyo Skytree view spot - Cielo y rio, Kuramae (蔵前)
7inchi tablet - such as iPad mini, Kindle by Amazon and Nexus by Google are arrived also in Japan and paied attentions of locals.
Ozeki 大関 (the 2nd rank) 
Low cost carrier (LCC) 格安航空会社 - This must be affected on those traveling in Japan. In 2012, Japanese established airline ANA launched Peach Aviation, and Jetstar and Air Asia arrived in Japan for domestic flights operation between major cities like Tokyo, Osaka and some resort destinations such as Okinawa, Hokkaido. It's a big change since the time only a few legacy carriers fly within Japan. 
LINE - is a mobile phone application developed in Japan and allows users to have free call and short message exchanges among friends. The communication tool captured over 36 millions users, mainly younger 10 - 20's generations in Japan.
Nikkei Marketing Journal "Hits product ranking 2012" includes total almost 40 products, services etc. Below Ozeki (the 2nd rank), we found several food related products on the list. 
Now we picked up some as examples...,
Maruchan Seimen (正麺) - The packed instant noodle was launched from Maruchan. The new product has been developed with patented production techniques for which maruchan succeeded in keeping authentic ramen flavor in the instant product.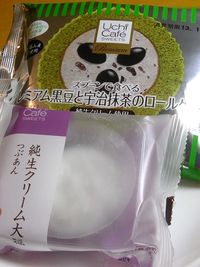 Japanese traditional sweets at convenience stores - Major convenience store chains such as Seven-Eleven and Lawson are competing for sweets product developped under their own brands. In spite of the small amount of price around Yen 100 to 300, the quality and taste are something we cannot ignore. 
Here we show a couple of newest example of them from Lawson Uchi-cafe sweets.
Premium roll cake with Matcha (green tea) and black beans: Both major ingredients are from the highest quality origin for each, matcha from Uji, Kyoto and black beans from Tanba-Sasayama, Hyogo prefecture.
Matcha cake wrapping black beans cream. 
Pure fresh cream Daifuku : Daifuku, one of the most popular traditional sweets of Japan, is arranged by Lawson. To attracts more younger genrations for the traditional product, the Western ingredient, fresh cream, is added into the center filling of Daifuku.
The mochi (outer rice cake) is very soft and sticky
and filled with full of beans and fresh cream. 
Drop by Lawson or Seven-Eleben and get a piece of Japanese sweets available there.
It's a good opportunity easily to try a Japanese traditional sweets!!!
Zaku Tofu

 (ザク豆腐)

 - This is what we introduced on our facebook page on this March. It's a Tofu product inspired by Zaku, a character of animation program GUNDAM. The green color tofu is made with green soybean (edamame) flavour. Available at supermarkets and convenience stores in Tokyo and surroundings.
Look at the photo to see how it looks like from the link here. 
Yaki Gyudon (焼牛丼)- You may know Gyudon (牛丼, beef bowl) available at the most famous Yoshinoya (吉野家). Yaki Gyudon (Grilled beef bowl) chain "Tokyo Chikarameshi (東京チカラめし)" is a newly emerged rival of Yoshinoya and is operated by a major casual Izakaya chain. Tokyo Chikarameshi's beef bowl price is slightly lower than the ones of major Gyudon chains. The number of Tokyo Chikarameshi's units is dramatically increased in 2012 and it is now over 100 units within one and a half years since the first opening. 
One day we will report the grilled beef bowl on this blog!
Oreno Italian/French (俺のイタリアン, 俺のフレンチ) - Ore(俺) is a vulgar expression of "I"(私). The Italian and French restaurants imply the casual atmosphere with the vulgar word. The concept is...  a restaurant hires skilled chef (some of them have experience at Michelin star restaurants.) while it serves in "standing" style. Then it makes available plates with high quality ingredients like truffles or fois-gras by skilled chef at very reasonable price. Due to the sensational prices of plates, all of the units Oreno Italian and Oreno French are often fully occupied and even a long queue could be seen by locals every evening.
As some examples of their sensational menu and price, we visited the second unit of Oreno Italian in Shimbashi. Arriving early evening around 6p.m., we luckly took the last spce(not a seat) at the counter. We saw business people coming and asking place with fail time by time even after we started having a few plates and glasses of wine there.  
Shrimp ajillo just cooked!
Pizza Margherita - looking at the chef preparing for other guests over the counter,
we could not help but ordering a piece for us.
from today's daily recommendation
In addition to regular menu, the restaurant offers
more attractive plates at very reasonable price. 
Restaurant name: Oreno Italian (Main unit of the group)
Address:
1st floor 3-8-5 Shimbashi, Minato-ku Tokyo
So far, as of the end of 2012, Oreno Italian has 3 units and Oreno French also has 3 units in central Tokyo area.
We are looking forward to discovering and introducing exiting and interesting food in Japan continuously in 2013.
Have a happy new year to all food lovers!!!
Information souce in Japanese:  
Nikkei Marketing Journal "Hits product ranking 2012"