We feature Ramen this month!!
Finally the time has come. On November 2012, we are going to focus on our recommendable 
Ramen restaurants in central Tokyo.
We know Ramen(ラーメン) becomes more popular year by year as food in Japan among international travelers, while local Japaneses are likely to consider that Ramen is categorized in Chinese meal, rather than Japanese. 
The noodle of Ramen is surely originated from China and in general Ramen is provided at Chinese, often casual, restaurants. 
So Ramen is also called "Chuka-soba"(Chinese noodle, 中華そば). 
At least we understand that the noodle in thick soup and bowl is Japanese style. In China and other countries, similar noodle is often taken with sauce or seasoned but not in soup. From that point, it can be said that Ramen is Japanese food.
From around 1970's, ramen has been independently focused from Chinese meal and casual restaurants specialized in ramen were emerged and have been developed until today. 
Now we can find a ramen restaurant everywhere, as you know if you travel in Japan. It is one of the most popular menu for quick lunch but with sufficient volume. 
Some ramen restaurant chefs are very stick to the quality of their products and take many hours to produce their noodle and soup. For those restaurants, some people make a queue to have a bowl of ramen, waiting for a hour sometimes. In many cases, such restaurants provide modest space as a dining; narrow counter or stainless tables with back-less chairs. But they are so attractive for these people, even if no-Michelin star, no wonderful service. Simply the ramen taste filled with passion of the chefs is great!!
Their profound soup is thick and rich in taste. We believe that it exceeds your imagination, if  you try a real good one. 
Noodle, barbecued pork "char siu" and cooked eggs, all other ingredients are also carefully selected and well-considered to harmonize with the soup and all together. We understand the profound and rich flavored soup with noodle attacts even people around the world.
We highly recommend that you try a real good Ramen restaurant, while you are traveling in  Tokyo and other cities. 
It only costs around Yen 800 - 1000 per person. 
Ramen can be categorized mainly by the flavor and ingredient of soup, such as miso (soy beans paste), soy sauce, salt or stock soup from pork bone (tonkotsu) and from dried fish powder etc. 
Tonkotsu (pork bone) soup is seen more in Kyushu region, while miso and soy sauce soup are often used in north like Tohoku and Hokkaido. 
Some restaurant offers variation in taste as well as topping such as boild egg, barbecued pork "char siu", garlic and vegetables.
Well, our first recommendation is for those who feel uncomfortable with the casual food at a casual local restaurant, even if you know that the food is nice.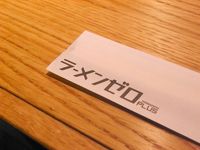 Ramen Zero Plus is located in one of the most luxury shopping complex, Omotesando Hills. 
Omotesando Hills, which is close to Harajuku, accommodates collections of high-end global jewelry and fashion brands such as DOLCE&GABBANA, HARRY WINSTON, Yves Saint Laurent. 
Even locals cannot imagine a Ramen shop is in such luxury shopping complex. It is same that you won't find McDonald in such places. So Ramen Zero Plus is unusual in that point. 
The interior is not like an ordinary ramen restaurant but is like a chic modern cafe, matching with other tenants in Omotesando Hills. 
Anyone will feel comfortable with the clean and modern atmosphere. 
However the ramen' taste and quality are never away from others at Ramen Zero Plus operated by "Setagaya" (せたが屋), one of the most popular ramen restaurant operators in Tokyo. 
Zero "0" implies that their meal prepared without any seasoning, but only with stock soup taken from various food ingredients. We cannot imagine how many hours required to cook the soup.
The specialty menu "Ramen Zeo" includes typical ramen condiments such as boiled egg, shredded leeks, a few slices of barbecued pork and nori dried seaweed.
The soup flavor is mild and never be too strong. 
That is another reason that we recommend Ramen Zero Plus for ramen beginner! in addition to the comfortable location.
Restaurant name: Ramen Zero Plus (ラーメンゼロ プラス)
Address: 3rd floor Omotesando Hills, 4-12-10 Jingumae, Shibuya-ku, Tokyo
View Larger Map