Following our previous post about Ota Market for December 2012 monthly feature, "Market"(市場), we picked up some scenes at Tsukiji Market on December for this post.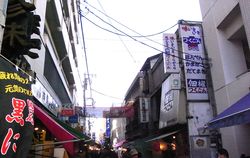 Once in 2011 we introduced Tsukiji Market with a seriese of posts mainly for Jonai (場内, inside) or wholesale area, where it is known for Tuna Auction. This time we focus on Jogai (場外, outside) area in Tsukiji Market.
Tsukiji Jogai market (築地場外市場) is situated next to the Tsukiji Market Jonai (築地市場場内) or wholesale area. Jogai, representing "outer area" in Japanese, is targeting more at non-professional buyers or local ordinary people and tourists, while Jogai area(inside) is mainly for professional buyers such as restaurants, retailers. Jogai area looks more like shopping arcade. It is the busiest around the end of December by local people who are looking for seafood and related products to be prepared for their New Year feast.
In other parts of the world, especially in Christian culture, maybe you have a feast on the Chritsmas day with your family, while you spend fun time with your friends or a partner on New year eve and New year day. In Japan on the contrary, New Year holiday 1st to 3rd of January is a period when we share time with our family in traditional ways, while we are likely to enjoy Christmas season with friends or a partner by having parties in a modern way. So New Year holiday for Japanese is to Christmas day for Christial family. Then you can imagine why Japanese locals are eager to organize a big feast on New year holidays. 
Celebration in Japanese traditional style, seafood is one of the biggest feature among New Year plates. So local people rush to Tsukiji for high quality seafood at less expensive price. Then on the last half of December, we can find some gorgeous seafood products or delicacies which rarely could be seen in other seasons. 
For examples....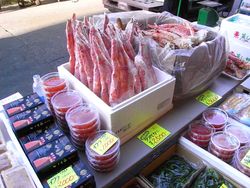 Crab, salmon roe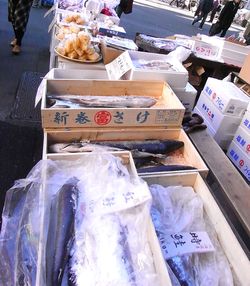 whole fis of salmon in wooden containers
During the last few days of December, Tsukiji Jogai market is extremely busy with local people. If you could arrive there in very early morning before 9 a.m. or earlier period, before 27th December, you will be able to enjoy finding such seasonal delicacies and vital atomosphere more comfortably, although the weather is a bit cold. It could be less than 10 C degree outside even during the day.
After or before such joyful discovery of rare Japanese seasonal delicacies, let's have breakfast or lunch at a restaurant in the area. We can find many casual restaurants at Tsukiji Jogai markets. Majority of them offers Kaisendon (海鮮丼, seafood bowl) prepared with fresh ingredients, of course, from Tsukiji wholesale market just a few hundreds meters away and some other provide ramen that must originally target at market workers.
Today's our recommendation is a bit different from such typical Tsukiji meal.
Toritoh(鳥藤) is a wholesaler of chicken meat based in Tsukiji over 100 years since the beginning of 20th century. One of restaurants which the wholesaler company operates is located in Tsukiji Jogai area. 
The name as same with the company, the casual Japanese restaurant Toritoh is specialized in plates and bowls with Chicken meat. The most recommendable specialty of Toritoh is Oyako-don (親子丼, bowl of chiekn and egg on top of rice) which is tradtional home-made style food in Japan.
Fresh tender chicken meat mixed with
high quality scramble eggs on top of rice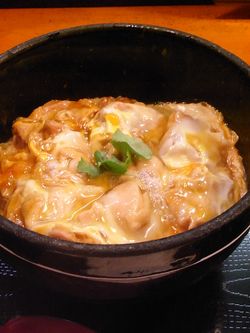 The sweet and gentle flavor suits not only for lunch but also for breakfast. 
At Totitoh, Oyakodon is served with a cup of chicken stock soup which is also very nice.
The restaurant is small with several seats at the counter in front of open style kitchen as well as a few of tables. From the counter seats we can enjoy looking at the chefs preparing chicken for Oyakogon or Yakitori (skewered chicken) etc. Oyakodon is cooked on a very small pan for each diner one by one. Yakitori is grilled very carefully little by litthe by the chef. They know well how much and how these chicken pieces are cooked for each menu. The casual Japanese restaurant maybe is a place where we can taste chicken plate in the best way!! although the price is just around Yen 1000 or even less per person.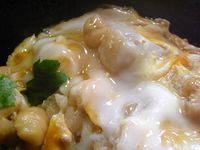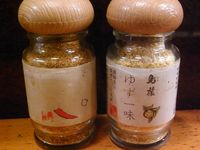 Half-boilded egg with chicken on top of rice (left)
Spices offered on the table (right) can be added as accent of flavor if you would.
These spices are also produced by Toritoh especially for chicken dishes.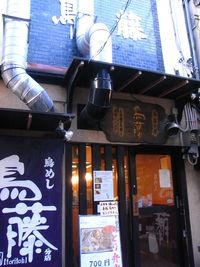 Restaurant name: Toritoh Bunten (鳥藤分店)
Address: 4-8-6 Tsukiji, Chuo-ku, Tokyo
Open: 7:30am - 14:30
Official website (in Japanese) : http://www.toritoh.com/contents/tenpo01/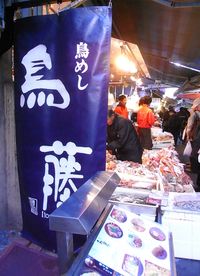 大きな地図で見る
 Link to related posts:
http://aboutfoodinjapan.weblogs.jp/blog/2011/04/tsukiji-market.html
 Ota Market visitor course (大田市場見学者コース) 
http://aboutfoodinjapan.weblogs.jp/blog/2012/12/ota-market-visitor-course.html