Following our last post about Ota Market visitor course, we introduce two Japanese restaurants situated in Ota Market, which is the largest fruit & vegetable wholesale market in Japan.
How to get to Ota Market, please refer our previous post.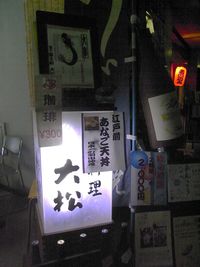 Daimatsu (大松)
Location: on the second floor of Office Wing (Jimto, 事務棟), which is the start point of the Visitor Course and also is in front of the bus stop. 
Please check the market plan from here. 
The typical casual Japanese restaurant offers bowl (don, 丼) menus of seafood and deep-fried.
What to have here is "Anago tendon" (穴子天丼, deep-fried conger with rice bowl).
For those who is unfamiliar with Anago(conger), it looks similar to eel with long body like a snake. Anago is often served as a piece of Sushi, after cooked with sweet sauce. Tempura (Japanese style deep-fried ) is another good way to enjoy conger.
Anago tendon at Daimatsu
with incredibly large anago piece!!!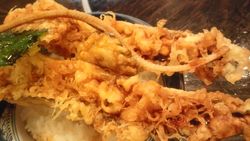 These two pieces are much over the bowl size...
crispy and of course tasty!! 
Anago Tendon at Daimatsu is something rare to find even in Tokyo.
Restaurant name: Daimatsu (大松)
Address: Ota Market Jimuto 2nd floor, 3-2-1 Tokai, Ota-ku, Tokyo
Official site (in Japanese): http://homepage3.nifty.com/fujiken-daimatsu/daimatsu.htm 
Webpage on Ota market supplier association(in Japanese): http://www.otashijo-kanren.jp/tenpo/ji_4.html
Fujiken (富士軒) 
Well our second recommendation is for fresh seafood menu. In Ota Market, fresh seafood is also dealt with, even though the market size is not as much as of the famous Tsukiji Market. So why not try fresh seafood at a restaurant in Ota Market? They are equally fresh and high quality and luckly unlike some restaurants in Tsukiji Market, you do not have to make a long queue.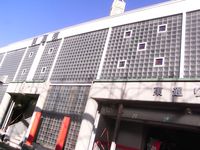 Location: Fujiken is situated in Annex or Kanrento (関連棟) in Japanese. Annex is tightly sandwiched between Fruit & Vegetable market and Seafood market. It is like a shopping archade, where more than ten shops & casual restaurants serving the market workers and wholesale traders visiting the market. We can find some shops selling processed food or packing materials and restaurants there.
The Annex has two streets, West and East but it is not so long and complicated. So it won't be difficult to find Fujiken there, especially because of clipping articles of Japanese magazines featuring the restaurant and autographs appearing at the restaurant's entrance.
This is the most famous specialty of Fujiken,
Fuji-don (富士丼), obviously named after the highest mountain in Japan
and also the name of the restaurant
All imaginable kinds of edible seafoods on top of rice bowl!!!
Oyster, the biggest feature, comes from Hyogo for this day.
One of rare spieces, "Chushingura"(忠臣蔵),
as per introduction by the hostess of the restaurant.
Crab with the shell, sea urchin (uni), salmon roe (ikura), scallop (hotate)..., uh,
Usually we feel happy, even if we can have one of these Japanese delicacies but here... 
in addition, squid (ika), conger (anago, again after Daimatsu above),
negitoro (tuna & shreded leek), two kinds of sashimi fish and egg cake!!!!!
Can't be better than this.
What an attractive seafood bowl...
Fujidon costs Yen 1950 per bowl, the most expensive bowl menu. No one should complain for it. The ingredients could be changed slightly by season but the sensation level is similar for a whole year.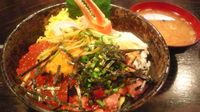 If you feel it is too much, Fujiken offers various versions of seafood bowls with less ingredients and at less expensive price.
Restaurant name: Fujiken (富士軒)
Address: Annex (関連等) Ota Market, 3-2-7 Tokai, Ota-ku, Tokyo
Official site (in Japanese): http://homepage3.nifty.com/fujiken-daimatsu/fujiken.htm
Webpage on Ota market supplier association(in Japanese): http://www.otashijo-kanren.jp/tenpo/d_5.html

Actually Daimatsu and Fujiken are brother properties operated by a same owner. The family has operated the restaurants for over 100 years since they were based in a former market in Kanda, East Tokyo.  
It might be worth visiting Ota Market for either of the two restaurants. But the problem is.... if you have only a chance to have lunch, which one you will go?! Both are too attractive options.
It is up to you!!!
How to go to Ota Market, please check our previous post.