As same with meal, Japanese sweets or confectionery is also unique and based on long tradition. We have introduced Japanese sweets and places to enjoy the delicacies time by time. For example: We showed beautiful small cakes in Japanese traditional style at "Wagashi (和菓子) - Shimizu (清水) in Kagurazaka" and reported traditional sweets making experience in Kanazawa, Hokuriku region on "Japanese Sweets making experience – Kanazawa (金沢)." As recommendable Japanese tea salon or cafe, we mentioned about a modern but sophisticated "Japanese Tea Salon - Higashiya, Ginza Tokyo" and a typical traditional style cafe "Takemura (竹むら), Japanese traditional sweets cafe".
A place to have Japanese traditional sweets is called in some different ways such as "Kanmi-dokoro (甘味処, sweets place)", "Saryo (茶寮, tea house)", "Sabo (茶房, tea place)", "Wa Cafe (和カフェ, Japanese style cafe)" etc. Some are very traditional and newers are modern and look like Western style cafe from outside. That might confuse you to know what it is. Anyway the best way will be to look at menu what they provide (many have menu with photos) and to look around space and what other people have. Whatever it is called, if many people are there and look happy with the place and sweets, you will also have a good experience. In central Tokyo, in general, comfortable tea rooms are likely to be busy with ladies on afternoon even on weekday.
Toraya Akasaka flagship store (虎屋 赤坂本店) is also one of our recommendable tea salons to feel fine Japanese atmosphere. Toraya (虎屋) is an established sweets maker born in Kyoto over five hundreds years ago. In the past we posted two articles of units under Toraya chain brand,"Toraya Cafe, Roppongi (トラヤカフェ, 六本木)" and "Breakfast at Toraya Cafe Aoyama." They are newer and modern shops by the traditional sweets house. Now we come back to the original where traditional Japanese sweets are served.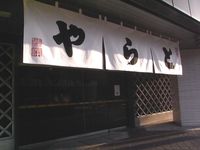 Toraya Akasaka flagship store is located along Aoyama Street. It takes about 5-minute-walk from Akasaka Mitsuke (赤坂見附) station and not far from Hotel New Otani and TBS broadcasting center. As per Toraya's official site, the sweets producer has a factory just next to Akasaka Imperial Palace, in prime location close to the flagship store. Toraya's products have been provided on the Imperial family of Japan even since Edo period, when the family was based in Kyoto.
If you leant Hiragana (Japanese letters), you might wonder the logo expressing as "やらと" (Ya Ra To) opposite of "Toraya (とらや)." It implies the house exists since Edo period when people wrote letters from left to right, not in the modern way as same with Western world right to left. Yes, Toraya has used the logo for hundreds of years.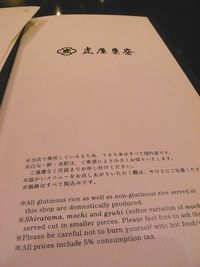 Toraya boutique is on the ground floor of the flagship store and the tea salon (Toraya Saryo, 虎屋茶寮) is on the underground floor. The building and interior are modern and clean. The tea salon is peacefully calm with graceful guests and staff as if it was on a tea ceremony.
Toraya tea salon offers some set menu including a piece of traditional sweets such as Yokan (羊羹, beans cake) or Nama-gashi (生菓子, fresh cake), the house's major product and green tea.
This is a set of Seasonal Yokan, the most-known Toraya's product
and Matcha (powdered green tea often sereved at a tea ceremony).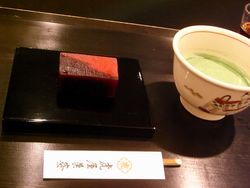 Seasonal Yokan at that time, the end of February is
"Kobai (紅梅, red Japanese plum)"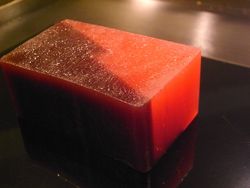 It's a way in which we appreicate the beauty of each season, through food and sweets.
The bowl of Matcha is with pictures of smiley Hina Dolls (ひな人形)
which are symbols of Girls' Festival (Hina-Matsuri, ひな祭り) on 3rd March.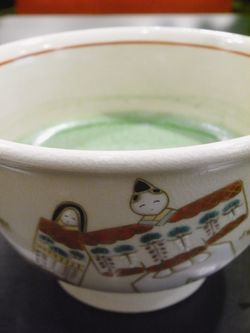 Obviously the bowl is used only for limited period.
Toraya changes even bowls by season.
The hospitality comes from the spirit of tea ceremony.
Toraya Saryo (虎屋茶寮) tea salon has also units at Ginza Chuo main street, Imperial Hotel Tokyo, Isetan Department in Shinjuku. We guess the flagship store in Akasaka provides the most peceful environment and sublime atomosphere among them.
Name: Toraya Akasaka Honten (虎屋赤坂本店), Toraya Saryo (虎屋茶寮)
Address: 4-9-22, Akasaka, Minato-ku, Tokyo
Toraya Saryo Official site: http://www.toraya-group.co.jp/shops/sho04.html
****** Our recommendable accommodation around this restaurant *******
*************************************************************************