It must be fun if we could make Japanese traditional sweets by our own hands. Even in Japan, it is rarely possible but at Kanko Bussankan (観光物産館) in Kanazawa, the hope comes true!!
On weekend in the morning to early afternoon, Japanese sweets making experience program is taken place by a professional sweets-making master in Kanazawa. The lecture is provided in Japanese but I guess even for non-Japanese speakers that could go fair, because the way of making is largely showed in visual step by step by the master in person and through the screens placed around the hall. As long as you pay enough carefully attention on how the master use his hands and tools at each step, mostly you will find how to do there.
All necessary tools and ingredients were ready in front of us when we were seated.
What is important before seated, please wash your hands off well! because your hands are the most useful tool to make the Japanese sweets.
Today's teacher to give us the class is the sweets making master comes from Takagiya (高木屋), founded in early 20 century.
We were going to make three kinds of cake made with beans paste.
White and green dough of beans paste are rounded in a ball.
It is almost like a play with clay when we had in childhood. But it is important for sweets making to make the shape quickly as much as possible in order to keep the ingredient cool.
The ball shape paste was wrapped with a wet cloth.
I squeezed the top of the ball tightly as instructed... then it has been transformed to "a butterbur sprout" (ふきのとう fukinoto, an icon of early Spring season).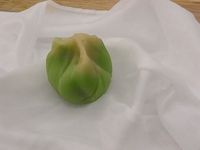 We wondered how we use this net for making sweets with beans paste.
The master showed the way to make the yellow paste into small pieces by getting the dough gone through mesh. Then the small pieces were attached on to a filling dough paste.
These are my works in colors!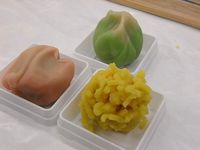 Green – Fukinoto (ふきのとう, butterbur sprout)
Pink – Sakura (桜, cherry blossom petals)
Yellow – Nanohana (菜の花, field mustard)
The program is taken place at Kanko Bussankan (local specialies souvenir shop) just beside of Kenrokuen garden from morning to early afternoon, on 30minutes to 1hour interval during weekend (Saturday, Sunday and bank holidays). It is reservable at the hall reception on site or by phone in Japanese.
Sweets to be made at the class is changed day by day depending on masters and company who provide lesson. The three pieces of sweets made by yourself as well as a piece made by professional can be taken away for your tasting after the experience program.
Related links: Takagiya (高木屋) who provided the lesson on the day
Venue: Kanko Bussankan (観光物産館)
Information about the sweets making experience (in Japanese) :
http://kanazawa.ftw.jp/gaiyo.html
Nearest bus stop: Kenrokuen Shita (兼六園下)
Address: 2-20, Kenrokuen-machi, Kanazawa-city, Ishikawa Prefecture
*The place is in Kanazawa, Hokuriku region. (not in Tokyo) For general information about Kanazawa and how to get there, please visit below link.
http://aboutfoodinjapan.weblogs.jp/blog/2011/04/about-kanazawa-city-where-food-lovers-should-not-miss-on-travel-in-japan.html
Accommodations close to the sites mentioned on this post
The comments to this entry are closed.
Pinterest