At the end of our featuring Japanese sweets cafe, we would like to propose a tea salon chain having several units in central Tokyo.
Azabu Sabo (麻布茶房) offers various choices of Japanese traditional sweets in their modern but elegantly decorated room at tens of locations across Japan. Many of the chain units are spacious as tea salon where Japanese traditional sweets are mainly provided. Tables are also large enough even for their lunch set menu.
Some units have chandelier like the one at Osaki Gate City
also with some Japanese traditional arts such as caligraphy, porcelin.
A showcase with food sample and menu with plenty of food photos
will also make you feel more comfortable to choose what you want.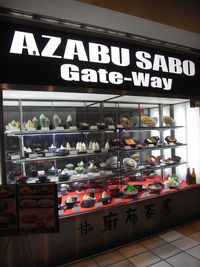 Azabu Sabo offers amazingly wide choice and variation. All are with Japanese traditional ingredients such as matcha (抹茶, green tea), shiratama (白玉, white dumpling), an (餡, sweet beans paste), and tokoroten (ところてん, seaweed jelly) and further more with different types of combination. They always make us be in a trouble to select just one or two if you would, because of the attractive options. 
For example,
warabi-mochi (わらびもち, soft cake made from a kind of potato) plate,
simply put kinako (きな粉, soybean flour) around it.
Syrup will be added on top of cake later.
As arranged version with warabi-mochi,
warabi-mochi anmitsu (わらびもちあんみつ), or potato soft cake
topped on sweet beans paste, kanten jelly and some fruits.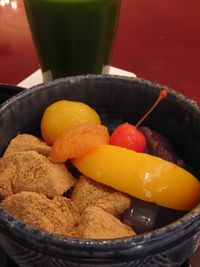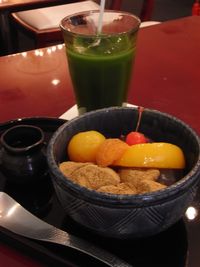 So many kinds of Japanese traditional flavour!
Azabu Sabo has its units in major area of Tokyo such as Hibiya (日比谷, between Shimbashi and Ginza), Shinagawa (品川), Shibuya (渋谷). The tea salon also provides intersting lunch menu such as ju (重, in square lunch box) of pork teriyaki topped on rice and udon noodle with chicken etc.
We hope you can find one of Azabu Sabo units near your accommodation or on the way to your activities.
Cafe name: Azabu Sabo (麻布茶房)
Official site: http://www.amaya-company.co.jp
Major unit locations:
Hibiya Chanter
Address: B2 floor, 1-2-2 Yurakucho, Chiyoda-ku, Tokyo
Shibuya Tokyu Plaza
Address: 9th floor, Tokyu Plaza, 1-2-2 Dogenzaka, Shibuya, Tokyo
Wing Takanawa (Shinagawa)
Address: 2nd floor, Wing Takanawa, 4-10-18 Takanawa, Minato-ku, Tokyo
Osaki Gate City
Address: 1st floor West Tower, 1-11-1 Osaki, Shinagawa-ku, Tokyo
View Larger Map