As mentioned on our first post of this series about Japanese related restaurants in Paris, now we can find a Japanese restaurant every 10 meters on a street in Paris. The chance of encounter may be higher than even in Japan. But not all of them in France are truely associated with Japanese. In addition to three restaurants, Aki, Nanashi and Toyo, already introduced on our monthly seriese of May 2013, Japanese related restaurants in Paris, at the last of the seriese, here we bring up a Sushi restaurant where we can feel real taste of Japan.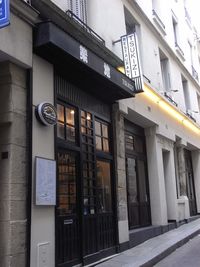 Tsukizi (築地), a Sushi restaurant based in Paris for over 30 years, is located in 6th district. The real Japanese restaurant is just off from Boulevard St. Germain on left bank which is known as an area filled with stylish and fasionable boutiques, cafe and bars.   
The street, rue des Ciseaux where Tsukizi stands, is calm, although stretched to two major main streets in the area, Boulevard St. Germain and Rue de Rennes.
Please do not miss the sign and entrance of the restaurant. As we told, every 10 meters or less, you will find a Japanese restaurant. Please make sure the restaurant name "Tsukizi". It is right place you go.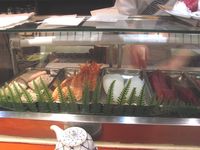 After poping in, we found a counter table with two Jaapnese Sushi masters as well as flat showcase filled with pieces of raw fish!!!
Yes, this is exactly same with what we can find typical traditional Sushi restaurants in Japan.  
Taking a seat close to some Japanese guests,
now our mind was in Japan, not in France any more.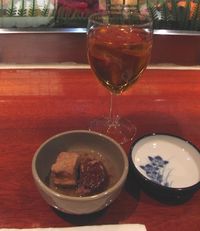 For lunch, reasonable set menu with a sushi plate is offered at less than euro 20 or for dinner Izakaya style small dishes as well as sashimi may be good as starter with a glass of sake before feast of Sushi. Due to the long presence over decades in Paris, the chef and staff know well taste of locals. Please do not hesitate to ask them if you need recomendation or have a question about sushi and other food provided at Tsukizi. They will be pleased to help you.
A glass of Umeshi (Japanese plum wine) along with amuse bouche or tsukidashi in Japanese was a good start of the real Japanese dinner.
It was nice to look at two Sushi chef preparing tens of Sushi pieces, while waiting for our plates.
On Sunday evening, from the start of the restaurant's dinner serving time 19h00, both local French and Japanese guests have visited there one after another. The restaurant tables became almost full before 20h00. We saw how much the real Japanese restaurant is popular here in Paris. We recognized some repeating guests who chatted with the chef and ordered their favourite plates without checking the menu.  
My SUSHI plate arrived !!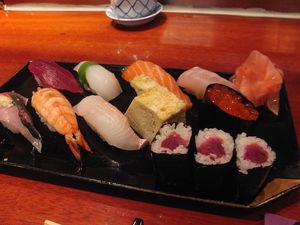 Again remind you, this is in Paris, not Japan.
No only the look, the taste is also surely
the work by Japanese chef with high quality seafood.
 What an amazing experience is in Paris...
Restaurant name: Tsukizi (築地)
Address: 2bis Rue des Ciseaux, 75006 Paris
View Larger Map