When you travel in Japan, probably you will find that Seven-Eleven and Lawson are two dominant players as a convenience store in many places of Japan. However in Hokkaido, a local chain disturbs these two giants making such situation in their land.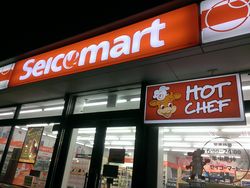 Seicomart is local convenience chain born in Sapporo in early 70's when even major convenience stores had not demonstrate strong presence yet. We can say that Seicomart is one of the oldest convenience stores in Japan. Seicomart has over 1000 units in Hokkaido and cover almost 100% area in the north-most big island. When you travel in Hokkaido, surely you find the orange logo with crane around train stations or roadside.
As one of the unique points, Seicomart provides at its units products offering as "HOT CHEF." It is a series of hot cooked food for take-away. The product line-up covers from katsu-don (tonkatsu, fried pork on rice), onigiri (rice ball), fried potato etc, which will be suitable for lunch or snack before or after dinner. As you may know, Hokkaido is the north-most land of Japan. In Winter in some places of Hokkaido, the temperature goes down to around 10 degree BELOW ZERO. In such severe weather, hot food served as "HOT CHEF" is really appreciated among local people. Even in summer, HOT CHEF series products will help you with taking energy to survive in heating climate.  
One cold evening on April, we tried fried chicken from HOT CHEF corner.
Chicken pieces were flavored well with blended spices like ones at KFC. The taste is much better than what we expect for food at convenience stores. We enjoyed a good evening at a hotel room with a canned beer and HOT CHEF fried chicken.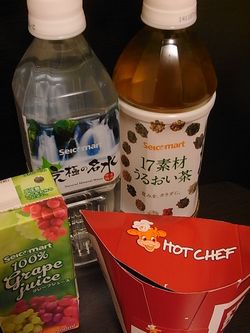 Seicomart offers original brand products in addition to HOT CHEF. They include tea and other soft drink.
Also it focus on introducing imported good quality of wine bottles at reasonable cost!!
Seicomart also provides  even "croissant" as a HOT CHEF product, which is made from igredients imported from France and baked at the location. That will be appreciated not only by local people but also by international tourists.
 Don't forget an option of HOT CHEF for quick lunch or refreshment during your trip in Hokkaido!!  
Our blog series Hokkaido will continue a bit more to talk about some interesting spots at Chitose Airport. 
Shop name: Seicomart (convenience chain)
Official website: http://www.seicomart.co.jp/english/our_network.html