As a part of our series of blog post "Hokkaido", we are going to talk about omiyage (お土産, souvenir gift) sweets for a while. Hokkaido is one of the most popular travel destinations for people in Tokyo and other parts of Japan. Then at everywhere in Hokkaido, we can find huge selections of sweets or snacks to be purchased as "omiyage" (souvenir gift). Hokkaido is a land of agriculture and daily farms in addition to fishery industry. That helps Hokkaido with offering wide variety of souvenir products. Milk, cheese, potato, Yubari melon as our previous post, and other ingredients considered as local specialty of Hokkaido are often used and can be found in omiyage product line-up.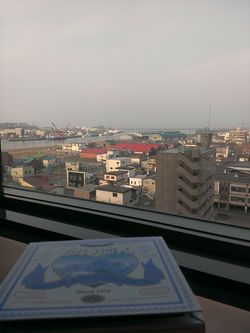 Among the huge collections, firstly we introduce one of the most popular Omiyage sweets, Shiroi Koibito (白い恋人), along with its rival, "Rokkatei products" we introduced on our blog in the past.

Shiroi Koibito is biscuit-sand with a piece of white chocolate, a kind of cookies called "langue de chat" in Europe. The rich creamy white chocolate is an icon of daily products from Hokkaido, which attracts us so much!! Once you take a piece of Shiroi Koibito, you will understand why it is so popular. It will be available at major souvenir shops in tourist spots across Hokkaido and some variation in size are offered from 9 to 54 pieces per package depending on your needs and demand.
Most people or at lease those in East Japan can recognize Shiroi Koibito with this package. On this trip we came to know about the mountain depicted on the package for the first time.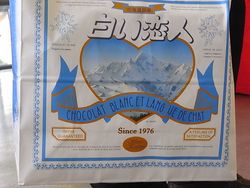 This mountain covered with snow is the one called "Mt. Rishiri" or "Rishiri Fuji" located in Rishiri island (利尻島) in Hokkaido. The 1721-meter height mountain has beautiful shape like Mt. Fuji. The island is about 25km away from Hokkaido main land. It takes less than an hour by air from Sapporo Chitose airport or less than 2 hours by ship from Wakkanai port. 
Luckly we could find the mountain from the main land of Hokkaido around Wakkanai, as the weather was very fine.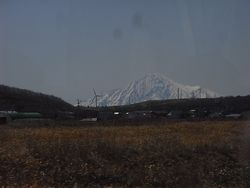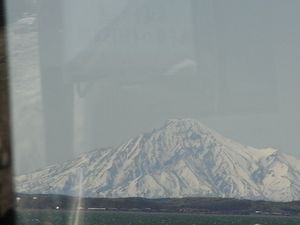 Does it look like the package?
The view of Mt. Rishiri reminds us Shiroi Koibito on the way of driving in Hokkaido.
It was nice to know deeper about the most popular souvenir sweets.
On the next post, we will introduce other Omiyage sweets in Hokkaido.