Our blog series of Okinawa was completed last month. Now we are pleased to start a new series "Hokkaido"(北海道), as the owner of About Food in Japan visited the region on the last week of April 2014. It was a private family trip and the members took on a tour bus. Although, what we saw and what we ate were mainly what we were provided by the tour rather than what we chose, we believe that our report including information and photos will be helpful for international tourists considering to visit the region!!
On this first post of Hokkaido series, we are going to introduce what is Hokkaido for those who are not familiar with the region.
Hokkaido is the north end region of Japan, contrary to Okinawa covered on our last series of posts and located in the south most region. Hokkaido is then close to Russia and in some parts the distance to Russian territory is less than 50 km.
Cape Soya (宗谷岬), the northern most point of Japan (left)
View from Wakkanai Park (稚内公園) (right)
Hokkaido, as an island, has the second largest area after the main land of Japan. Hokkaido can be considered as a region in Japan. At the same time, with over 5million residents, it is a prefecture among 47 ones in Japan. The area is the largest as a prefecture and it accounts for 22% of land in Japan.
As we can imagine from the location, the climate is much colder than that in Tokyo and Osaka. In some parts of Hokkaido, in winter, sometimes the temperature goes down to minus 30C degree. Many places in Hokkaido have a lot of snow in winter. Many ski slopes are there and Winter Olympic was once held in Sapporo, the capital of Hokkaido. Some of you may also know the name of Niseko ski resort.
When we visited Hokkaido on the last week of April,
some parts were still covered by snow there.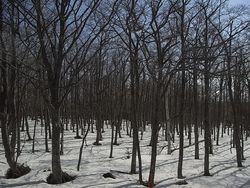 Among local Japaneses, Hokkaido is known for the vast land and low density. The vast land has rich natures with several national parks including Shiretoko, UNESCO World Heritage.
Shiretoko
Access from other major cities: The region's capital Sapporo has Chitose Airport(CTS) which is the largest gateway from other parts of Japan. The airport also has some direct international flights even from some counties around Japan. From Tokyo, major airlines serve for flights between Haneda (Tokyo) airport and several key airports such as Asahikawa, Kushiro, Hakodate, Obihiro, Wakkanai etc, in Hokkaido. It takes 1.5 hours by flight between Tokyo and Sapporo(Chitose airport).
Agriculture and fishery, both very strongly associated with "food", are major industries of Hokkaido. We will show you what kinds of food they have in Hokkaido through following several blog posts!!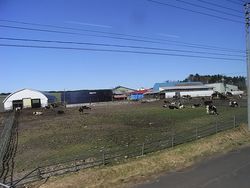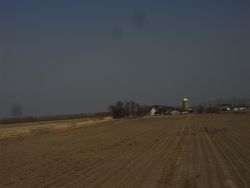 Daily and livestock farmers often can be seen in some parts of Hokkaido.
Wheat, sugar beet, potato and onioin are major agricultural products of the region.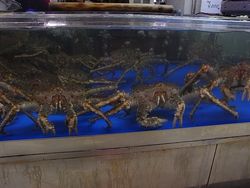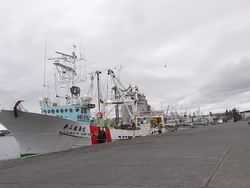 Hokkadio, surrounded by Pacific, Okhostk Oceans and Japan Sea,
is known for fresh and high quality seafood from several ports across the region.
Of course some of them are transferred to Tsukiji fish market in Tokyo.
Before we started introducing what we had at the last trip, please let us review our past blog posts related Hokkaido.
Lineup for Michelin Guide Hokkaido 2012
http://aboutfoodinjapan.weblogs.jp/blog/2012/04/michelin-guide-hokkaido-2012-published.html
Chocolate Brewery by SAPPORO x ROYCE
http://aboutfoodinjapan.weblogs.jp/blog/2011/02/chocolate-brewery-by-sapporo-x-royce.html
Dairy products from Hokkaido - Machimura Farm (町村農場) at Marunouchi
http://aboutfoodinjapan.weblogs.jp/blog/2010/06/dairy-products-from-hokkaido-machimura-farm-%E7%94%BA%E6%9D%91%E8%BE%B2%E5%A0%B4-at-marunouchi.html
Omiyage (お土産) - Rokkatei (六花亭) from Hokkaido
http://aboutfoodinjapan.weblogs.jp/blog/2009/05/omiyage---rokka.html
Bento(弁当)- launched for G8 Summit celebration
http://aboutfoodinjapan.weblogs.jp/blog/2008/06/bento--launched.html