You may know that instant noodle was invented in Japan. Mr. Momofuku Ando, may be one of the most creative innovators from Japan, invented first "Nissin Chicken Ramen" as the world first instant noodle. Then he also came to the idea of "Cupnoodles" (instant noodle in a cup) when he was exploring a way to expand his instant ramen to the world from Japanese domestic market.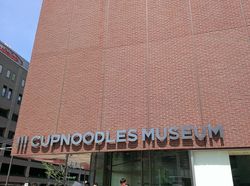 The four-floor modern building is dedicated as "Cupnoodles Museum" with the theme "Creative Thinking". Thanks to the work by an excellent art director Mr. Kashiwa Sato, the museum has become a space where the great history of innovation by the founder of Nissin Foods is well presented and also where both adults and children can learn from and enjoy the exhibition.
On the 2nd floor, we can find the history of innovation and what Mr. Ando was thinking and doing through his life. It is filled with insights for creative ideas. In another part, we can find covers of instant noodles by Nissin Foods. Some of them might be familiar with you.
The 3rd floor is occupied by two "Factory" space. One is for Cupnoodles and another for Chicken Ramen. The space provides on visitors opportunities to involve in instant ramen making experiences. Chicken Ramen factory is exclusive for kids and junior high school students and advance reservation required. Because the experience is available in Japanese, it must be a bit hard for international visitors to join in it.
On the other hand, Cupnoodles factory is easier to participate for international visitors as explanation in English is provided. With the price Yen300, we can create a pack of own original Cupnoodles.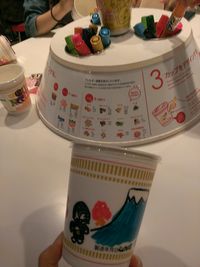 First we painted a cup as we like.
Then we proceeded to the factory area where noodle was put in a cup (or noodle was covered by the cup).
We can select 1 soup flavor and 4 different condiments for our own Cupnoodle.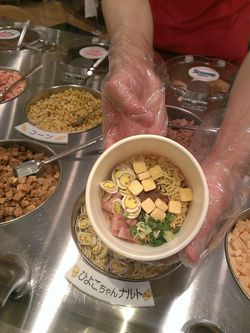 I got the mascot of Chicken Ramen, Hiyoko's fish cake, which can never be found at an ordinary version Cupnoodles, as well as cheese, bacon and leek.
My cup was wrapped as a product in the factory. The original cupnoodle's shelf life is a month.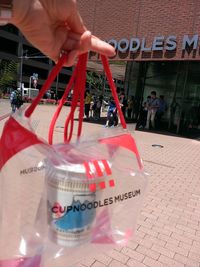 It is put in a cushion bag to bring it back to home. (But please keep in mind that it can't be brought to an aircraft.)
The fourth floor is separated into two areas. One, called Cupnoodles Park is for kid's playing park. As we are adults, we could not enter to the area. As per the official information, the playing park is designed based on the idea of "noodle factory" and kids can go through the factory-like field, like usually noodle does.(They can feel like noodle!)
The rest is a food court style dining. Several different noodle bowls from "Noodle Road"(like Silk Road) are offered as a memory of Mr. Ando's journey. In addition, Chicken Ramen is also available, which I chose with cheese and leek toppings.

The price is quite reasonable at Yen300 for a half portion bowl. So we can try more than one noodle bowls for a meal or just one as snack.
Cupnoodles Museum is located in Minatomirai area in Yokohama. By train, it takes a few stops from Yokohama station or China Town subway station. To access to Yokohama from Tokyo, it is 20 minutes train ride from Shinagawa station in Tokyo.

If you are interested in instant ramen as a food culture, we recommend that you visit Cupnoodles Museum.
For Cupnoodles Factory experience and Cupnoodles Park(kids playing area), during busy period, it is available for only limited numbers of people and numbered ticket will be issued for first-come-first-sereved base. Otherwise, Cupnoodles Factory experience can be booked through a ticket system at Lawson convenience stores across Japan. (Operation available in Japanese though)

Spot name: Cupnoodles Museum
Address: 2-3-4 Shinko, Naka-ku, Yokohama City, Kanagawa
Official website: http://www.cupnoodles-museum.jp