As the main event of my journey in Kanazawa, I visited Tsubajin (つば甚) for lunch. With its history of over 250 years long since 1752, Tsubajin is one of the most established Ryotei (料亭) in Kanazawa. Out of Nishi Chaya Machi (にし茶屋街), the traditional Japanese house build in early 20 century stands on a bank of Sai river (犀川). From the upper floor, Kanazawa city view is available.
Approaching to the restaurant entrance, a lady in Kimono opened the entrance door and welcomed me with smile. I already recognized that this kind of hospitality prooves the restauran as a place where royal family, politicians and other celeblities have been welcomed for long years. We were taken to a room on the ground floor, where we can find a small but nice Japanese garden outside while inside seasonal decoration of Hina ningyo (雛人形, Girls festival dolls), kakejiku (掛け軸, traditional painting scroll) and a flower base. They are modest but creats elegant tast collectively.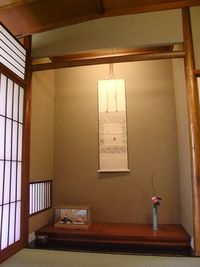 The staind glass partion on the left stand implies Taisho period (大正時代) when this house was built.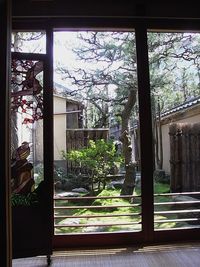 It is a place where we can be fully relaxed even before lunch...
Sake (日本酒) sevred is original brand of Tsubajin (つば甚), blended specially for the restaurant. Dry but fruity, modest and good quality exactly like the restaurant!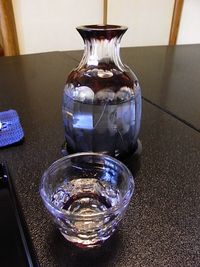 The least expensive lunch is box meal style, because I have to keep my stomach space for dinner and sweets on afternoon. If you would, Kaiseki style meal is also available depending on your budget.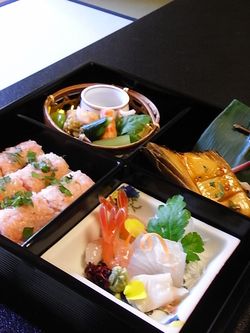 Grilled Takenoko (筍, bamboo shoot) is icon of Spring. Behindit, masu (鱒, trout) also grilled and wrapped by a dark green leaf and decorated with a small piece of cherry flower.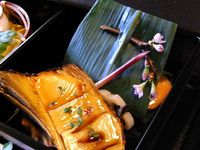 Sasimi (刺身, raw fish) plate is essential for Japanese course meal.Here it includes very fresh seasonal local product.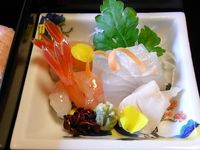 Jibuni (じぶ煮), well-known local speciality (郷土料理, Kyodo Ryori) of Kanazawa, ordered with supplement cost. Duck meat, local speciality product "fu"(麩, wheat gluten cake) and vegetables including local spiecies of spinach Kinjiso (金時草).
The excellent lunch was ended with a small bowl of dessert
I left the restaurant with great satisfaction. It was a perfect moment of fine traditional and fresh cuisine, interior decoration and Japanese hospitality.
About Ryotei (料亭)
No clear difinition of Ryotei but it is considered as the most luxurious category of traditional Japanese restaurants with established business in long history, appreciated by local magnates and VIPs, capacity and ability to arrange entertainment by Geisha. Many are located in Kyoto, Tokyo and Kanazawa. Because of nature of their clientels, dinig space is most likely to be "private room" style where you would never find and hear other diners. To have meals in Ryotei, advance reservation is required and in most case chef's recommendation course is provided according to your budget given upon reservation. (It means they rarely allow you to visit without reservation and to select plates from a list on the spot.) Please be ready enough earlier to take advantage of fantastic experiences feeling Japanese traditional culture!
Tsubajin (つば甚)
Address: 5-1-8 Teramachi, Kanazawa-city, Ishikawa prefecture
Website: http://www.tsubajin.co.jp
*The place is in Kanazawa, Hokuriku region. (not in Tokyo) For general information about Kanazawa and how to get there, please visit below link.
http://aboutfoodinjapan.weblogs.jp/blog/2011/04/about-kanazawa-city-where-food-lovers-should-not-miss-on-travel-in-japan.html
Accommodations close to the sites mentioned on this post
03 April 2011
Pinterest