Higashi Chaya district (ひがし茶屋街) is one of the must-see points for tourists visit Kanazawa. The two-story houses in traditional style, made with wooden flames, some of them painted in dark red, stretch in a row along the main street made of stone blocks and over a hundred meters long. If you are enough luck to be there in quiet time without tourists in modern looks, you must feel as if you were traveling to the past, in Edo period.
Some of buildings in Higashi Chaya district are still used for the original purpose, which was set up in 1820, Chaya (茶屋) where feasts and entertainment are taken place with Geisha (芸者) on the upper floors of the buildings on evening. Others are restored and transformed to restaurants, café or souvenir shops and so on. So you may have a chance to go inside of these buildings in Higashi Chaya district. During day time, the small historic town is normally filled with tourists. But when I visited, it was rather calm and less crowded, even on school holiday season, after less than three weeks from the natural disaster in Tohoku region.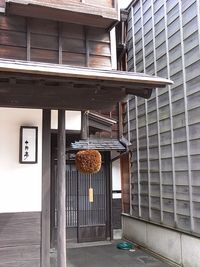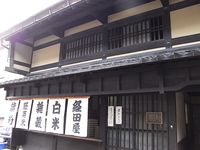 Right: Rice store in very traditional style
It is just off from the main street.



I visited Kaikaro (懐華樓) to look how Chaya is like inside and to enjoy tea time in the traditional building. It is the biggest Chaya in Kanazawa and is situated around the middle of the main street. On evening, Kaikaro accepts "referral clients only" for feast and entertainment by Geisha, as others in same business do. As its policy, Kaikaro welcomes only one client group for evening per day. During daytime, the house is open to tourists for viewing inside with entrance fee. It is a good opportunity to know how the Geisha world is…
Imagine? Climing up the steps what we will see….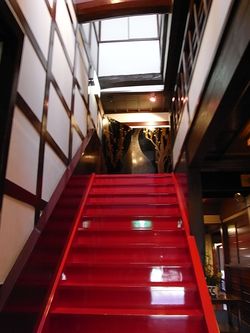 On the upper floor, it has two dining halls, dressing room for Geisha, reheasal room etc. It is interesting to imagine how they are used on evening…
After visiting the upper floor, we can take a break at the café on the ground floor. Please do not miss it as the space is also worth visiting and spending some time with Japanese tea.
Maybe this is the first time even for me to find "active" Irori (囲炉裏, Japanese style fireplace).
The widow side is decorated with folk arts, antiques, fans with name of Geisha hang on the upper side of wall.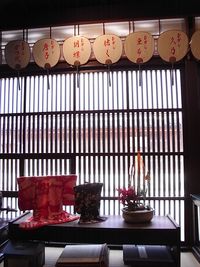 I had Japanese traditional sweets, Kudzu (葛, made from a kind of beans) jelly in noodle shape and sweet black syrup to dip Kudzu. Kinpaku (金箔, gold leaf) float in the syrup !! (No worry it is safe to eat.)
Kaikaro offers combination plans of Chaya entrance fee with Japanese sweets or Maccha (Japanese tea) or softdrinks.
Kaikaro (懐華樓)
Address: 1-14-8 Higashiyama, Kanazawa-city, Ishikawa prefecture
Website: http://www.kaikaro.jp
*The place is in Kanazawa, Hokuriku region. (not in Tokyo) For general information about Kanazawa and how to get there, please visit below link.
http://aboutfoodinjapan.weblogs.jp/blog/2011/04/about-kanazawa-city-where-food-lovers-should-not-miss-on-travel-in-japan.html
Accommodations close to the sites mentioned on this post
The comments to this entry are closed.
Pinterest