We are not able to imagine how many kinds of ready-made drinks available in Japan, whether in can or in PET bottle. Beverage makers face severe competition to get space on the shelfs of convenience shops across this country.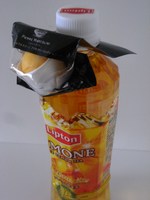 To attract both consumers and convenience shop owners, major soft drink producers are likely to attach a packet of small gift to their bottled drink products.
You will find something like this on a shelf of PET bottle drinks. A small plastic bag is hang from a bottle-neck.
The free small gift depends on the target of the drink.
Recently launched the promotion by Lipton must keep attention of Japanese girls and sweets-lovers. It offers original mobile phone charms collaborated with Belgium high-end chocolate shop, Pierre Marcolini. The charmes are in shape of miniature sweets by the chocolate brand; tablet, colourfull ice cream or biscuit..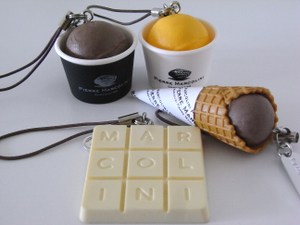 They really look like real sweets apart from the size.
Yes, the size, as they are to be "a charm for mobile-phone", they are so small to eat
At least they are enough attractive to entertain people who find it with your mobile phone.
Related website
Lipton Sweets Collection : http://www.lipton-sweets.jp/