The 9th of May is considered as "the day of ice-cream" by Japan Ice Cream Association.
Why it is the 9th of May? the date is the anniversary of the first biggest promotions made for Ice Cream in Japan in 1964, the year when Summer Olympic Game was taken place in Tokyo. On the beginning of May, the temperature is going to rise and the weather becomes better with more sunshine. It means that it comes to the good condition to start promoting Ice Cream in Japan.
Well, what I am going to introduce is not exactly Ice Cream but is Italian Gelato.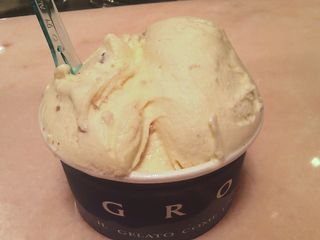 The Italian gelato shop Grom was born in Torino in 2003. The very best product is made of carefully selected fresh highest quality natural ingredients including fresh milk in the region's traditional way of production. Soon it became so popular in the city that people made a queue for it. (Yes, in Italy, not in Japan) The gelato producer won the "Master of Food" award  from Slow Food Organization and the Province of Torino. Now they have own orchard to harvest high quality seasonal fruits for its gelato products.
The store opened in New York in 2007 and the low-fat, low-sugar healthy dessert attracts New Yorker as well.
Probably no need to tell more stories to imagine a long queue was seen at the gelato shop when a year ago in 2009, it arrived in Shinjuku Tokyo.
The first unit in Japan is located on the ground floor of Shinjuku Marui department store. It has some seats and counters to taste the Italian sweets. More than 10 kinds of gelato are always available. Some of the flavors change season by season.
A plus point is that the shop opens until late evening 23:00. So it is still available as the fantastic end of meal even after you enjoy dinner in Shinjuku area.
The second unit in Tokyo will be open in Harajuku on June 2010.
The shop name: Grom
Address: Shinjuku Marui Honkan (Main building) 1F 3-30-13 Shinjuku, Shinjuku-ku, Tokyo
Official website: http://www.grom.jp