Tonkatsu (とんかつ), deep-fried pork cutlet, is a popular main dish in Japan. Something similar can be found in other parts of the world and the Japanese version can be liked by non-Japanese people as well.
Kimukatsu (キムカツ) is one of the best restaurants for tonkatsu in Tokyo. The way of cooking tonkatsu by Kimukatsu is known as "millefeuille" of meat. Like the French pastry pie cake "millefeuille", 25 pieces of pork thinned are piled up and become a piece of tonkatsu pork, while it is just a piece of pork meat at ordinary tonkatsu restaurants. After it is cooked in oil at Kimukatsu restaurant, the piece of tonkatsu is still soft and the juice of pork meat is kept in between the each slice of pork. That is the biggest difference of tonkatsu by Kimukatsu from any others.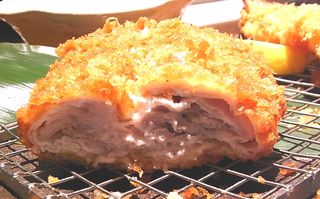 Yes the restaurant knows how to make the best tonkatsu even with the fact that they need to take great amount of time and care to prepare the menu. For food lovers, it worth taking time to go to a unit of Kimukatsu restaurant and to try the tonkatsu!
In addition to normal tonkatsu menu, it offers several ingredient can be found inside of tonkatsu; such as cheese, garlic, black pepper, sour plum and Japanese herb shiso etc. 

Shredded cabbage is the most typical side dish for tonkatsu.
It is known that vitamin in cabbage works well against deep-fried oily food in your stomach, after you have both. That is why the restaurant serves a bowl of cabbage first.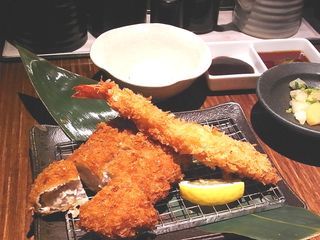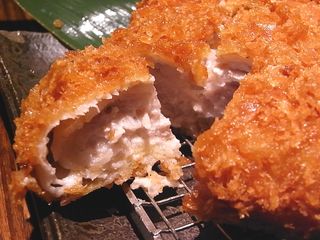 Tonkatsu with a piece of fried shrimp.
Jucie pork "millefeuille" inside of crispy pan-fry coating.
It also offers lunch box with tonkatsu. That is an option when many people are making a queue and waiting for the best tonkatsu there.
Restaurant name: Kimukatsu Ebisu (main unit)
Address: 4-9-5 Ebisu, Shibuya-ku, Tokyo
Map
大きな地図で見る