Can you imagine how this small box (about 5cm square) makes you happy?
 From the shape like a "treasure box", it is called Takara no fu (宝の麩, treasure of gluten cake). The product is made by Fumuroya (不室屋), the traditional producer of "fu"(麩, small pieces of gluten cake). Yes this is something to eat at least.

Surprisingly this cube is converted to "instant soup" with boiled water. Soup stock powder, dried vegetables and gluten cake are inside of the small box.

On the official website of the fu house, we can find the story, how this product was born. More than ten years ago, the owner of Fumuroya sent his children to abroad for study. The parents worried about whether their children could have healthy and well-balanced food diet outside of Japan. The mother created the small gluten box and ingredients of soup stuffed into it. The mom-made Japanese instant soup was shipped to the children and the children sometime shared them with Japanese people living abroad. It became so popular to be made as commercial products of the house finally.
So let's see how the box transformed to a cup of instant soup. It has some variation of soup. This time it is "Kaga miso" (加賀味噌 miso from Kaga region, near Kanazawa).

First, place the square box at the bottom of bowl.
Add miso paste and pieces of seaweed (packed in the product)
and make a small hole in the center of gluten box.


Pour boiled water....
Wait a moment and you will see the gluten box is dissolved gradually and made unshaped by hot water.

Finally the square shape disappears but only a yummy Japanese soup is there.
Now ready to eat!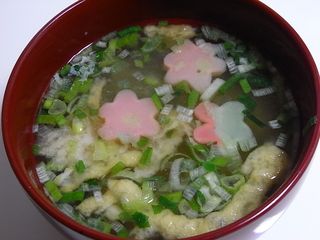 Another version of Takara no fu soup, Hitohira (a piece of flower like the shape of gluten box): flower shape gluten cake, pieces of cherry blossom flowers
After delighted by the magic, enjoy the hot soup by the traditional food producer as well.
Shop name: Fumuroya 不室屋

Address: 2-3-1 Owari-cho, Kanazawa city, Ishikawa, Japan
Official website: http://www.fumuroya.co.jp
The products by Fumuroya are also available at some major department stores in Tokyo and Osaka.
For example...
Tokyo - Nihonbashi Mitsukoshi, Nihonbashi Takashimaya, Ikebukuro Seibu
Osaka - Osaka Takashimaya, Umeda Daimaru
Related story: Museum cafe (this is about the cafe in Tokyo, operated by Fumuroya)
http://aboutfoodinjapan.weblogs.jp/blog/2008/08/museum-caf---su.html